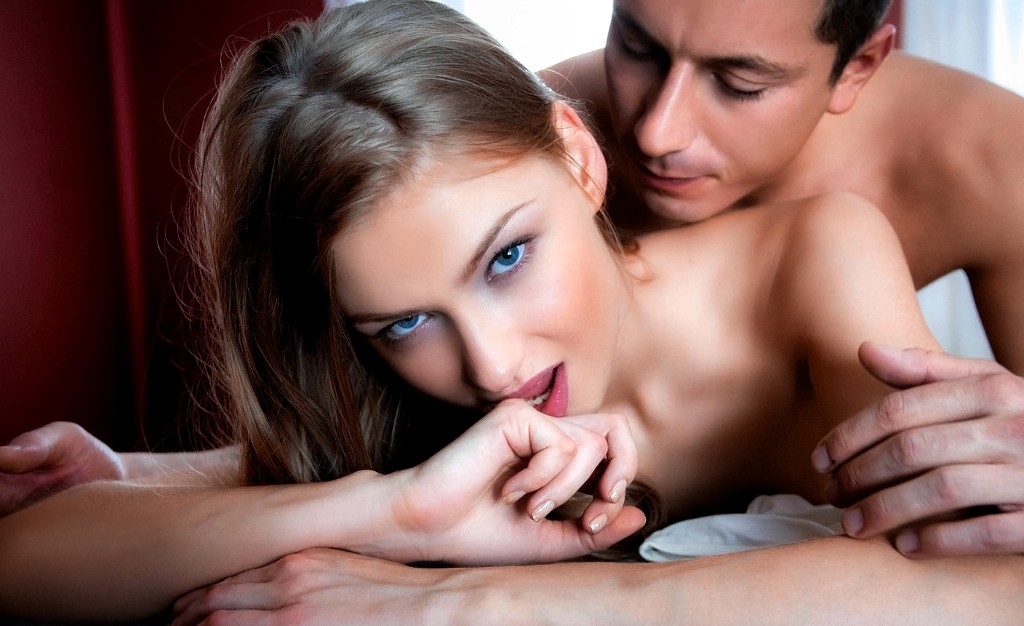 "Hold still or I'll smudge it."
"How do you expect me to keep still while you're wriggling on my cock?"
I'm sitting astride my friend Anton's lap, trying to apply eyeliner to his pretty brown eyes. I'm struggling to concentrate though, as I can feel his cock getting hard, and I have to move my hand away so I don't smudge it as he grasps my ass and pulls me firmly against him. This evening has taken a very interesting turn…
Anton came over for a box set binge. He has the same taste in movies and TV shows as me, and he's the only straight guy I know who likes my current obsession, "Versailles." I'm so in love with the character of Philippe, Duke of Orléans, a cross-dressing, bisexual warrior prince — made all the more fabulous because it's based on historical fact. (Much more on this below*, if sexy history is your thing too…)
So, we're watching the scene where Philippe wears a dress to his own wedding — it's complicated — when I realize that Anton is getting aroused. We're snuggled up together on the couch, our clasped hands in his lap, when I feel the unmistakeable swelling of his rising cock. He presses my knuckles against his crotch, his breath catching.
Half kidding, I say, "Is that for me, or is it seeing Philippe in a dress that's turning you on?" Immediately, Anton tenses up, and I turn to look at him properly. He flushes, looks down; then meets my gaze, almost defiantly.
"Can I tell you something, Rose?"
"You like men?"
"No… I like dresses…"
"You like… men in dresses?"
"No. I like imagining it's me. In the dress. And make-up."
He's blushing really hotly now, but he doesn't look away. His cock is throbbing fiercely under my fingers.
"Have you ever tried it?" I ask. He shakes his head. "Would you like to?" He nods, shyly.
"So, let's try it…" I say, reaching over to the coffee table for my make-up purse.
A few moments later, I'm straddling Anton's hips as I ring his eyes with smoky black liner. It really suits him, bringing out the intense brown of his eyes.
"You look good," I tell him, opening the mirror app on my phone and holding it up for him to see. He gazes at his reflection; I don't need to ask how it makes him feel, the flexing and twitching of his hard cock beneath me is communicating plainly enough. It's turning me on to see his arousal triggered so blatantly. We're in the middle of a heatwave and I'm only wearing a thin sundress and panties, the merest slip of fabric soaking up the wetness that otherwise would be smearing over the front of his tented boardshorts by now.
I rock my hips subtly, slowly, grinding my pussy against the hard base of Anton's cock as I apply more makeup — a little shimmering gold shadow to his eyelids, a touch of blusher and tinted lipgloss. I don't want to overdo the effect, just to highlight his features. The effect is gorgeous. He doesn't look like a girl, he looks like a hot, sexy boy. A very horny boy, cheeks flushed, lips parted, hands coaxing my hips to move faster.
"Would you like me to find you something to wear?" I ask softly. He nods, eyes glittering with excitement. Dismounting, trying to ignore the wetness slicking up my panties, I go into the bedroom and rummage through my wardrobe.
I'm quite petite and I'm struggling to find anything that would fit Anton, but then I remember a beach dress I have, strapless with a ruched, stretchy top. It's bright cerise, with a tropical flower pattern. I take it into the living room, along with a full-length cheval mirror.
Anton takes off his T-shirt and shorts. His low-rise Calvins are doing a poor job of containing his erection. He's trembling slightly as I help him step into the dress, and pull it up over his slim hips to his chest. It's tight on him, and only reaches to mid-thigh. The bulge at the front is pronounced. I walk around him.
"Cute, but you have VPL," I say.
"VPL?"
"Visible panty line. Take 'em off."
He slides his hands up under the dress and pulls down his briefs, letting them drop to the floor. Now unconfined, his cock pokes obscenely against the front of the dress as I lead him to stand at the mirror. He stares at himself, expression inscrutable. Then slowly, a smile spreads across his face.
"I look…" He's lost for words.
"You look perfect," I say, coming up behind him and wrapping my arms around his waist. He takes one of my hands and guides it down to his cock. There's a wet patch on the dress now where his cock is leaking. I stroke my thumb over the tip of it, wrapping my fingers around the shaft to grip it through the dress. He groans. I start stroking it, watching him as he watches himself in the mirror. He's radiating a new confidence, seemingly transformed by the simple act of acknowledging his desire. It's very attractive.
I kneel in front of him, sliding the hem of the dress up over his thighs to reveal his cock. It's so engorged, the head shiny with moisture. I lick it and his eyes flash down to meet mine — he grins — then back up to his reflection as I take him deeper in my mouth.
If you're a regular reader you'll already know that nothing gets me wet quicker than sucking cock. Doing it while the guy is wearing one of my pretty dresses adds a certain frisson, and so I do my utmost to ensure Anton will remember this not only as his first time crossdressing, but also as the best damn blowjob he's ever received.
I start slow, letting his prick slide wetly in and out for a few strokes, then backing off it and nuzzling his balls, kissing along the crease of his thighs, tracing the thick veins up the length of his shaft with my tongue and circling it around the head, dipping into the seeping slit. His fingers tangle in my hair as I take it deeper and start sucking in earnest, tongue swiping from root to tip with each bob of my head.
One hand is still wrapped around the base, corkscrewing up every so often to elicit a deep groan of pleasure from him. The other is pressed between my thighs, the joint of my thumb grinding on my clit through my wet panties. It's not enough, so I rise up higher on my knees — changing the angle on Anton's cock so I can take it even deeper — and tug my panties down to mid thigh so I can finger myself properly.
Now I move my other hand from Anton's cock to his ass cheek, pressing, urging him deeper down my throat. Nose buried in his pubes as he stretches my mouth wide, I can smell his masculine, musky scent, and a faint hint of laundry detergent from my dress. As I rock forward onto his cock I cram two fingers into my pussy. They are soaked with my cream immediately, my thumb skating over my slippery clit, finding the sensitive spot that makes me quiver.
We're both on the edge, and I'm so thoroughly absorbed in the sensation of Anton's prick filling my mouth — the heat, the smell and taste of his sex — that it jolts me out of my trance when he eases it out from between my lips.
"Want to fuck you," he says. "Want to see it…"
I understand at once what he means, and drag the big square ottoman in front of the mirror, so I can bend over it while he screws me from behind. He strips me naked, strokes the head of his cock up and down between my lips, seeking the opening and… ohmygod… eases it inside. A sudden rush of absolute lust blazes through me.
"Harder!" I gasp, meeting his eyes in the mirror, eros and philautia combined in his burning gaze. He pulls back and slams in, forcing me open as the fat head of his cock drives deep, filling me in the blissful way that no tongue or fingers can ever match. I cling on to the sides of the ottoman as he fucks me with quick, vigorous strokes, reaching around to press on my clit so the root of his cock stimulates my G-spot with each thrust. The sensation is incredible, but it's the visual — the cerise fabric vivid against Anton's skin, cheeks flushed with more than just blusher, black eyeliner highlighting the feverish light of his eyes — that tips me over the edge.
He fucks me right through my orgasm, a lightening strike of pleasure, and keeps right on thrusting, hard strokes gradually speeding up until he erupts inside me with a yell that sets me off cumming again.
"Thank you," he murmurs in my ear as we catch our breath, his cock still buried deep, and I know he's not talking about the sex. His makeup is a little smudged but he looks radiant.
He's so happy when I say he can keep the dress — it's too stretched for me to wear now, and the color suits him better anyway — and we spend the rest of the evening trawling online crossdressing stores for shoes in his size to match. This butterfly is spreading his wings…
* Sexy history time:
The TV series "Versailles" has grabbed headlines with its bawdy bed-hopping shenanigans. It's a classic bodice-ripper, but the kicker is how accurately it is based on historical fact. Philippe I, Duke of Orléans (1640–1701), known at court as Monsieur, was the younger brother of Louis XIV, the "Sun King" who built the Palace of Versailles. Their mother, Queen Anne, dressed Philippe in girl's clothes as a child, and referred to him as "my little girl," ensuring he would not be seen as a threat to his brother's supremacy. Philippe continued to dress in women's clothing as an adult, attending balls and parties in female costume. Philippe was openly bisexual, taking mainly male lovers throughout his life; his affair with the Chevalier de Lorraine outlasted both his marriages, although his children from those marriages were the foundation of many present day European dynasties. Philippe was flamboyant, effeminate and dissolute; he was also highly intelligent, a patron of the arts, a skilled negotiator and a courageous military commander who won great popularity for his success on the battlefield.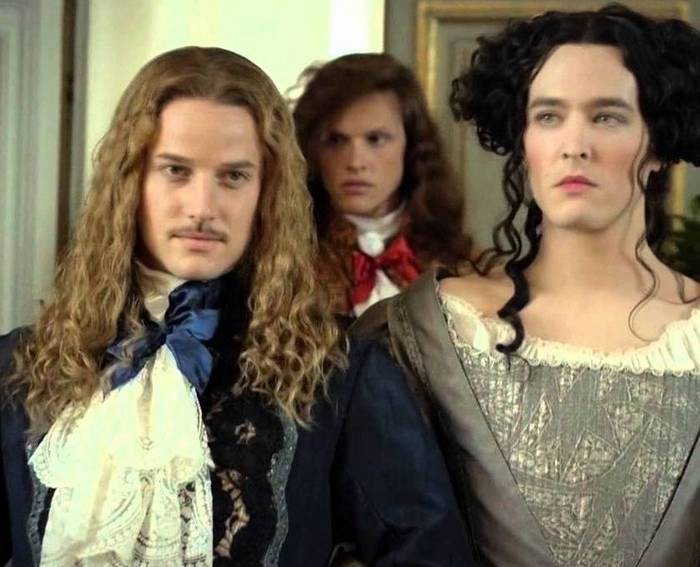 As played by Alexander Vlahos, Philippe is by far the most fascinating character in "Versailles." He's by turns childish and Machiavellian, sweet and vicious, wheels visibly turning as he struggles against the constraints of his life and his yearning for love and the exhilaration of war. But what's so enlightening is the apparent ease with which the court accepts and even embraces gender fluidity and gay relationships. It's also notable that amidst all the intrigue and illicit liaisons of the court, Philippe's love affair with Chevalier is the most genuine and enduring one.
Is it wrong to be obsessed with someone who lived over 300 years ago?
A poem for Philippe –
I'm beautiful
when I step out
on Chevalier's arm
eclipsing all others
in my elaborate gown.
The murmurs swell
but I feel them like the tiniest ripples of the incoming tide
washing over my feet
in their modish heels.
They envy my shiny raven tresses
my porcelain skin
my height
my poise
my elegance
but most of all
my cock.
I am a royal prince
but today I am the Queen… of hearts.
And appetites.
Don't judge me. I'm a fangirl, not a poet.
Thanks for reading! Applause, comments and follows get me hot 😉
More confessions from me here — if you think you can handle it! Maybe have a cold shower first…