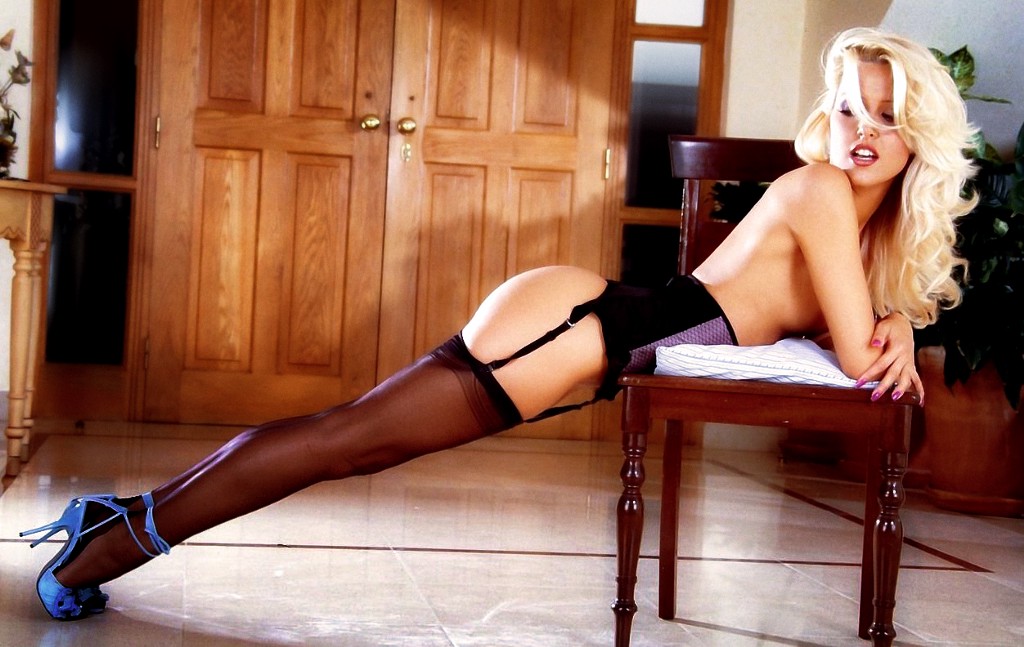 My legs are stretched out perfectly straight, muscles taut, bare ass in the air. Wearing nothing but sheer black stockings, garter belt and sexy ankle-strap heels, I feel more exposed than if I were actually naked. And I love it.
"Rose, can you look over your right shoulder… Ass a little higher. Bit more… hold it… That's perfect." The rapid click-click-click of the camera shutter sounds like applause. Who knew I was such an exhibitionist?
Maybe it's not just being photographed nearly-naked that's turning me on, though. It might have more to do with the way the photographer, Daniella, is looking at me, as if she wants to eat me up. I suppress the shiver of excitement that sweeps over me, trying to be a good model. It would be easier if I weren't so acutely aware of the wetness seeping out between my pussy lips to dampen the tops of my clenched thighs…
I recently acquired a fuckbuddy who lectures at my local art college, I'll call him Simon to spare his blushes (you can read my filthy confession about how we met here) and he introduced me to Daniella, one of his final year students. Daniella was looking for a model for a multimedia piece about the fetishization of the female body, and Simon thought I would be ideal, as he enjoys nothing more than fetishizing me in every possible position, every chance he gets.
Ironically, although I don't have even a hint of inhibition about being naked, I am quite camera shy. I would probably have said no if Daniella wasn't absolutely my type: cute with big brown eyes, caramel skin, a hint of an Italian accent overlaid by MLE* and a naughty sense of humor. She charmed me with her explanation of what she was trying to achieve — exploring stereotypical stylized depictions of female sexuality by juxtaposing them with raw, candid images of authentic sexual self expression, yeah whatever, if you need someone who can balance in six-inch heels I'm your girl — and when Simon murmured in my ear that he would get a dirty private thrill out of seeing artwork inspired by my body at the degree show, I found myself agreeing to be Dani's model.
So here I am, dressed up like the slut that I am in a classic waspie style garter belt, stockings, and gorgeous heels that make my legs look so long, I feel like a pin-up star.
It's fun posing for someone who is so vocal in her appreciation, and the rapport I have with Dani feels like something more than just artist and model right from the outset. I know her boyfriend Tyrese though — he's in a life drawing class Simon takes — so I assume it's just the overt sexuality of my outfit and poses that's got her acting so frisky. I do my best to ignore the fact that having Dani's attention on me, having her study the curves and planes of my body with her hyper-focused artist's eye, is getting me hot.
Even when I'm standing with my back to her, legs apart, posing like a porn star in my stockings and heels, I can feel the heat of her gaze like a physical touch. My skimpy black panties are not covering much. Dani says she will Photoshop them out in the shots from the rear, but I breezily tell her not to bother, and wriggle out of them. It's no big deal to me, but as I bend over and step out of my panties I feel her eyes linger on my pussy. It definitely heightens the sexual tension in the room.
Dani directs me into a position with my elbows supporting my weight on the seat of a chair, legs outstretched behind me, up on my toes. On my front with my ass up, it's a blatant come fuck me pose.
I have to maintain tension in my thighs and abs to hold the pose. All that gym work — and gym fucking — has definitely paid off; and as any girl will tell you, holding the inner thighs clenched for an extended period sends an unmistakeable message to the pussy. I'm so turned on. All I can think about is getting fucked in this position.
Dani's words of admiration as she snaps away are becoming less flirty, more heated; I'm definitely not imagining the attraction between us. Seeing myself through her eyes, I feel gorgeous, desirable, and powerfully sexual.
"Don't move, I just want to straighten out the top of your stocking," Dani says, moving closer. It's exquisite torture to stay motionless as I feel her warm fingers brush the sensitive skin on the back of my thigh. I've hung out on movie sets a few times, helped the models straighten their seams, walk in their platform heels, rub lotion on their skin; but it feels much more intimate than I expected to be on the receiving end of the attention.
Dani fiddles with my garter straps for longer than she needs to, as if reluctant to stop touching me now she's started.
"Can you move your feet apart a couple of inches?" she asks softly. I spread my legs and her fingertips move around to my inner thigh, smoothing my stocking and then lingering, stroking small circles. I'm sure she can see how wet I'm getting. Her fingers stray closer to my pussy, and closer still.
"Rose, may I…?" she asks.
"Yes," I say, all my attraction and desire and arousal coalescing in that single syllable.
I thought she was asking to touch me — goodness knows that's what I want — but no; she picks up her camera and click-click-click, she starts taking close-up shots of my juiced-up pussy. Knowing she's looking at me so intimately, studying my pussy intently, gets me even more aroused. The muscles of my thighs and abs, my inner walls, are clenching spasmodically. Surely she can see, surely she's going to touch me now, I think desperately…
"Your pussy is so pretty," she says, half-laughing, but with a serious undertone. And now she does lean closer, and her fingertips touch that sweet spot that makes me gasp. They glide along the cream-slicked groove between my pussy lips, gently at first, then more firmly as I press back against her. Light pressure won't do it for me now, the foreplay of getting dressed up and posing for her has gone on long enough that I'm hot, dripping, so ready for it. I spread my legs wider and she squats between them, rubbing my clit with the flat of her thumb, dipping it into me a little way. I gasp and squirm, wanting more, needing penetration.
"I've only done this once before… I don't really know what I'm doing, but… I want to lick you…" she says hesitantly. The way she asks is cute, and sexy.
"Yes… please!" I reply. She slides her hands around under my thighs to hold me steady as she kisses my ass cheek, kisses down and down until her lips brush my pussy, kisses me there, and then again, harder. Her tongue swipes along my slit, the tip pushing into me, and — yes! that's it! — triggers a sudden explosion of sensation. Emboldened by my enthusiastic reaction, she licks again, a little deeper, my pussy flowering open for her to taste. Her lapping tongue is deliciously stimulating, not reaching my G-spot to really get me off, but setting off pulses of pleasure that make me grind back against her mouth.
And that's how her boyfriend finds us…
If Tyrese is surprised to see his girlfriend crouching between my thighs, eating my pussy, he does a good job of hiding it. There's a moment where he and Dani just look at each other, and then he grins and she goes right back to eating my pussy as though it's nothing unusual.
I'm a little too far gone to protest against having an audience, even if I wanted to, but Ty is a sexy guy, lean and black with gorgeous, almond shaped eyes; I would have hit on him for sure if I hadn't assumed he was off limits because of Dani. Having Ty watch as Dani licks me makes the excitement I'm feeling even more intense, and I guess it's working for him too, as when he unzips his jeans it's to reveal the most beautiful big, black, hard cock I've ever set eyes on.
I know it's a myth that every black guy is well hung, but Ty is around 6'2" and he is perfectly in proportion. Wow.
I want to suck that cock.
Ty reads my expression accurately — he could hardly misinterpret the way I'm staring ravenously at his crotch — and a moment later he's standing in front of me, offering his cock to my lips. Dani's licking has me so shaky I need both my elbows on the chair to keep my balance, but that's okay, Ty holds my hair out of the way and stands still so I can suck him hands-free. It's a stretch to take that monster in my mouth, but once I've lubed it up with saliva and licked it up and down I manage to cram the first couple of inches in, and after that I'm so blissed out (because as you know, nothing gets me wet quicker than sucking cock) that I just relax into it and start sucking deeper and deeper.
I'm so focused on Ty's dick that I'm not even consciously aware of what Dani's tongue is doing, but either my passion for cocksucking has pushed me over the edge or she's a very fast learner, because I'm suddenly wracked by an orgasm so fierce I have to let Ty's cock slide out of my mouth, clinging onto the chair and crying out as my thighs clamp tight around Dani's head.
When I finally stop squealing, she crawls around to Ty, face shiny with my juice, looking as smug as anyone would who's just licked a girl to orgasm for the first time. She watches happily as I take Ty's cock in my mouth again, feeling it throbbing even harder — he obviously gets off on being watched, and I guess I do too, because my orgasm has just made me even hornier.
"You look so porno together," Dani says. "May I take some pictures?" She's already promised my face won't be recognizable in any shot she uses for her project, and I think it would be hot to have some filthy pics taken by such a creative photographer, so I nod as well as I can without letting up my steady sucking. This time the click-click-click of the camera seems to harmonize with the rushing blood through my veins, the slippery sucking noises and Ty's groans of pleasure as I draw my lips up and down the full length of his rigid shaft, my tongue easing the way on each stroke.
I'm driving him to the edge but he doesn't want to cum yet, so he steps back to let the rising pressure in his balls subside a little, and watches as I pull down Dani's cut-offs and panties, and lick her clit while I fuck her with three bunched-up fingers. She's so excited she cums twice in quick succession, soaking my hand and nearly falling off the chair as her whole body bucks and shakes.
When she's caught her breath, she's calm enough to hold the camera as I get back into position with my legs outstretched and Ty moves between my thighs and drives his cock into me. It feels huge, and amazing. The stretch is almost too much as he pushes in, I'm so sensitive from Dani's licking, but as I relax to take it, starbursts of pure pleasure start to radiate through my body. In that position he's hitting my G-spot perfectly.
I want him to pound into me, but he holds back at first, thrusting in and out maddeningly slowly so Dani can take photos. If we're talking fetishization, then to my mind nothing is more visually stimulating than the sight of a big black cock thrusting into my tight little blonde cunt. Knowing I'll get to see the pictures of my ass cheeks spread apart, Ty's thick cock glossed with my wetness as my lips grip it snugly, literally blows my mind. By the time Ty can't wait any longer and starts pumping his hips to fuck me hard and fast, I'm practically begging for it. Neither of us lasts long after that; I cum like crazy, pussy squeezing tight around Ty's dick, and then he pulls out so Dani can capture his hot load spraying out in spurts over my ass cheeks.
Dani has promised to show me the pictures she uses for her show, which will be heavily manipulated with various processing techniques. I'm curious to see how she conveys her concept, although I suspect the message will be lost on me, since being fetishized was the most fun I've had in ages. But I'm looking forward to seeing Simon's reaction, as he is the only person apart from Dani and Ty who knows I was the model — and I have only told him the most sketchy details of what happened at the shoot. Naturally, Dani has given me a few of the unedited shots for my private collection.
*MLE or Multicultural London English has replaced Cockney and Estuary as the dominant accent in inner-city London, reflecting our diverse culture and multi-ethnic population. Educational, innit?
Thanks for reading! Applause, comments and follows get me hot 😉
More confessions from me here — if you think you can handle it! Maybe have a cold shower first…