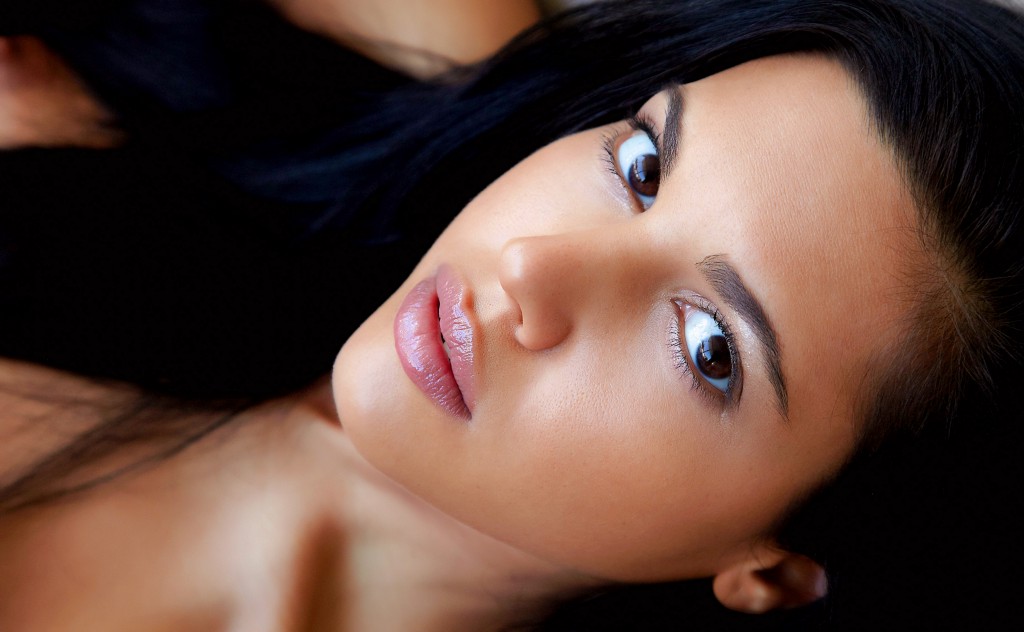 Daniella loves her body. She loves her firm ass, with just a hint of ripple in her cheeks when she bounces up and down on her man's dick. She loves her pussy, the way it juices up so quickly when she gets turned on. But most of all she loves her perky tits, with their big, dark nipples. She can orgasm just from having her nipples sucked, can almost cum just from thinking about it. She can't go braless in public because her sensitive nipples betray her excitement so easily, but that's a small price to pay for all the pleasure she gets from having them played with.
Dani is admiring herself in the bathroom mirror, pulling her silk robe open to expose her breasts. Her nipples firm up instantly as she looks at them, sending a sudden thrill of excitement through her. She lets the robe slip to the floor and slides a hand down between her thighs, fingers stroking the plump lips of her shaved pussy.
I know this because I'm filming her on my cellphone. Dani wants a sexy movie to send to her man. That's her story, anyway. I think she just enjoys having me watch her. It's getting me wet, that's for sure.
Her lips part in a soft 'O' of arousal, hips circling as she grinds on her fingers. I can see them shining with her wetness. She has the most perfect ass, and I watch it sway as she parts her legs a little wider and bends forward over the vanity. I tell her to picture her lover wrapping his arms around her, rubbing her clit, whispering in her ear, telling her how much he wants her, how beautiful she looks.
I'm picturing it too. Dani and I had a very memorable threesome with her boyfriend, Tyrese a while ago — you can read about it in Fine Art, Filthy Sex. He's a tall, sexy black man and they look so hot together, her deep brown eyes and golden skin against his darker caramel. Throw my blonde hair and fair complexion into the mix and you get a delicious blend…
Focus, Rose.
I watch as Dani turns and perches up on the vanity, rotating her fingers rapidly over her clit, nipples diamond-hard and throbbing.
"When you're done I'm going to suck those nipples, baby," I tell her. "I'm going to run my tongue over them, suck them and bite them until you feel it all the way down to your creamy cunt."
I can see the anticipation getting her hot. Pussy juice is trickling down her thighs. I think about Tyrese hearing my voice as he watches the video, his huge dick rock hard. I picture his fist wrapping around that thick cock, stroking as he watches Dani fingering her pussy in the video and listens to me goading her on. I wonder if he'll remember how it felt the first time he thrust that cock into my mouth and how it throbbed as I sucked him, my wet lips sliding down in a tight ring around that fat ebony pole as I took it as deep as I could?
Dani is moaning softly, her fingers a blur on her clit.
"Are you thinking about your man's cock, baby?" I ask. She nods, eyes glazed. "Show him how you're going to ride him," I tell her, expecting her to cram her fingers into her juiced up pussy. But instead she reaches into a drawer of the vanity and pulls out a big black rubber dildo. It's enormous, maybe even bigger than Ty's cock, and the visual as she spits on it and sucks it to get it wet enough to slide into her pussy is pretty damn pornographic.
She rubs the head of the dildo up and down her creamy slit, spreading her lips open as she starts to ease it inside. The delicate folds of her pussy are flushed pink as the big dong gradually stretches and fills her. She looks gorgeous, biting her lip in concentration as she draws the toy out slowly and pushes it back in again, gasping as she forces it a little deeper with each stroke. I focus on her pretty face, her diamond-cutter nipples, her tight pussy gripping snugly around the thick, slick shaft, glistening with her juice.
As she finds a steady fucking rhythm with the dildo, she starts pinching and pulling at her nipples with her free hand. I love to see nipple stimulation pushing her over the edge, it seems to give her the most electric orgasms, and I'm torn between filming it for Ty and stepping in to suck on those sexy dark buds as I promised. But I want to capture her climax on camera, so I try to keep my hand and my breathing steady as I film her slamming the mock cock in harder and faster, one foot raised up on the vanity to spread her pussy open wider.
Her cries rise in volume, echoing around the tiled room, and as she starts to shake uncontrollably her fingers close tight around a nipple. It sends a jolt through her and she gasps, back arching, thighs snapping closed with the dildo buried deep inside her. She bucks on it, hips jerking crazily, those perfect little tits with their bullet nipples jiggling as she convulses. Each time she starts to ease the dick out gingerly, it sets off another wave of orgasmic ripples and she thrusts it deep again.
Finally, her climax subsides enough for her to slide the cream-streaked dildo out of her puffed-up slit. I film her gaping pussy twitching wetly, then focus on one stiff nipple as she scoops up some pussy cream and smears it over her tits.
"Want to lick it off?" she asks me with a seductive smile.
I toss my phone aside. If Tyrese has any jizz left in his balls after watching his girlfriend ride that big rubber dick, I'm sure he'll be able to picture where I'm about to put my tongue…
Thanks for reading! Applause, comments and follows get me hot 😉
More confessions from me here — if you think you can handle it! Maybe have a cold shower first…