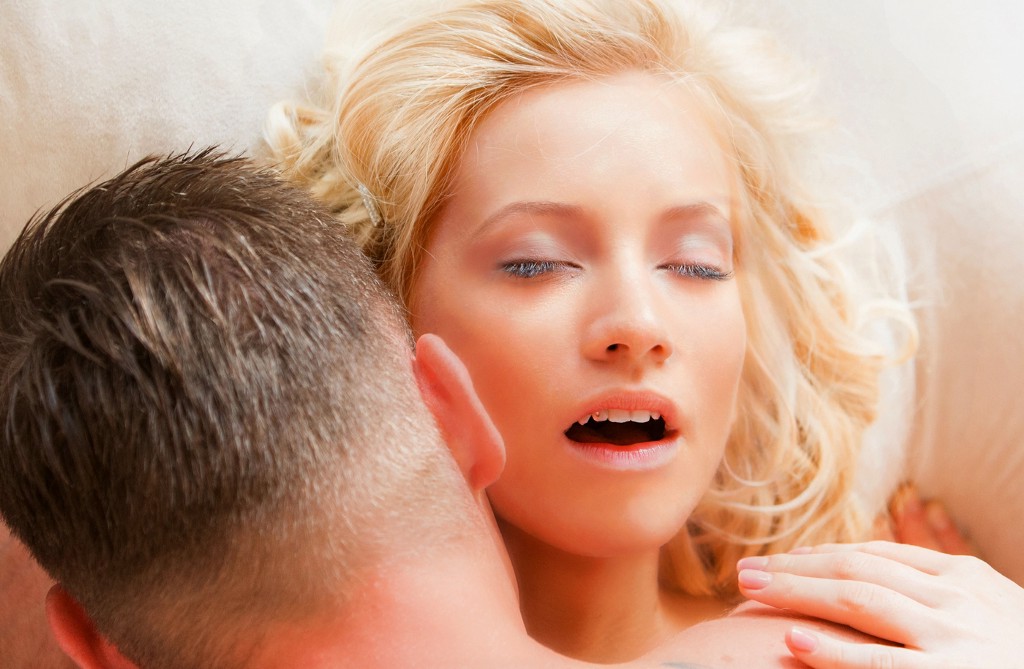 My favorite part of any new encounter is the moment I realize the guy I'm talking to is getting hard. It's the ultimate compliment. Unlike sentiment, an erection can't be faked. And when the guy happens to be an off duty porn actor, it's a nice little ego-stroke.
First time I handled a professional swordsman's equipment, I was in Vegas for a porn convention. As a writer of erotica I have a lot of friends in and around the adult entertainment industry, and they're a fun crowd to hang out with. It was my first time at the show; if you've ever been there, you'll know that to reach the conference center you walk down miles and miles of carpeted corridors. It's the equivalent of the Italian passeggiata — sooner or later, you will see everyone you know. The models look hot in their skimpy outfits and everyone's hyped to be there, so it's noisy, sociable and gossipy.
I was walking to the show with one of my girlfriends who works for a movie company when we ran into a couple of porn actors she knew, and they started chatting about a location shoot they had all been on in the Caribbean. It sounded like a wild time, and the way she told it, the younger one — I'll call him Adam, which isn't either his real name or his screen name — was the baddest of bad boys.
I got talking to him, not about the business but about his 'real' life, and he turned out to be a sweet guy. He was young, only just into his twenties, with the perfect manners of a southern gentleman. A blue-eyed blond, he was good-looking in an all-American farm boy kind of way, but not really my type — I prefer them dark, in body and mind! He was good company though, and as we chatted we fell further behind our friends, engrossed in conversation.
I wasn't aware of any sexual vibe until we reached the entrance to the show and stopped to say goodbye. A mature but still gorgeous model walked by, and we both remarked on how hot she looked. I made some comment about Adam liking older women.
"I like you better, haven't you noticed?" he said, taking my hand. My eyes dropped to his crotch and — wow. He was hard, and he was huge! I couldn't look away. He pulled me closer, drawing my hand towards his cock. My fingers wrapped around the thick shaft involuntarily, and I felt it twitch. I couldn't help wondering what it would be like to touch a cock that enormous without a barrier of denim between us. His body was muscular — he'd been in the military — and positively vibrating with virile masculinity. I was instantly turned on.
It took a few moments for me to come to my senses and realize I was standing in a busy corridor surrounded by people, engaging in a very public PDA — not that porn folk are very judgmental about that kind of thing. I reluctantly let go of his boner and we grinned at each other. There was lust and a hint of challenge in his gaze.
"I guess I'll see you around, Adam," I said.
"I sure hope so," he replied. He kissed me — not a dirty kiss, more of a tantalizing promise of what it might be like if he dropped the politeness and really went to town on me.
Wow.
I had to rush to a meeting; I have no clue who it was with, or what we discussed. It's hard to concentrate on business when all you can think about is having a virtual stranger's huge, hard cock throbbing in your hand.
Of course I soon got into the Vegas swing and forgot about Adam as the days and nights of casino craziness flew by. One of my favorite fuckbuddies was in town and had a luxurious suite at the Wynn, so I hung out with him a lot, when I wasn't working or catching up with the girls. My mind wasn't really on porn star cock.
I didn't see Adam until the afternoon I was leaving. I was sitting in a bar on the casino floor of the hotel with the same girlfriend who had introduced us, having coffee and comparing gossip before I headed to the airport, when he walked by, talking on his phone.
"Hey, Adam!" I called. His face lit up at the sight of me. Very gratifying.
"I'll call you back," he said abruptly, hanging up his call, and then to me, "Oh my god, Rose! I've been looking out for you! How are you? Wanna hang out?"
"I do, but I have to leave for the airport in less than an hour," I replied, my pulse suddenly racing.
"We'd better make the most of it then," he said with a wicked grin.
I looked apologetically at my girlfriend. "Go!" she said. "I'll take care of your suitcase. Go have fun."
I considered whether this was actually a good idea for all of about two seconds before letting Adam take my hand and lead me to the bank of elevators. We didn't speak much on the ride up; we were both fighting the urge to just tear into each other, aware that there were eyes and cameras everywhere. But when we reached his room, I was mortified to discover a bunch of his homeboys hanging out there. He was sharing a big room with them; as a young guy, not long in the business, I guess he couldn't afford a fancy Vegas hotel room on his own during the convention.
I felt myself blushing as he said, "Hey guys, would you mind giving me and my little English muffin some privacy?" They grabbed their stuff and left without a murmur of dissent. I don't know what glances were exchanged, as I was staring at the floor, wishing it would open up and swallow me.
And then we were alone.
"I can't believe you're actually doing this," he said quietly.
"Nor can I…"
For a moment I hesitated. This was a guy used to fucking the most gorgeous, sexy models for a living, not ordinary girls like me. Then I looked into his bright blue eyes and I saw no bravado there, no porn star posturing; just honest, uncomplicated lust. That sent a surge of arousal all the way down to my toes.
He kissed me, and this time it was full-on dirty, forceful and hungry. No holding back. His hands were on my waist, sliding down to my hips, then around to cup my ass, pulling me against him. And there it was, that hard cock pressed into me.
It felt colossal.
There was no way to disguise how eager I was to see it, and I didn't have time to waste. I unbuckled his belt, slid his zipper down and let his jeans fall. No underwear. And there was the biggest cock I'd ever seen in the flesh, stiffening up even more, like a drawbridge being raised.
Wow. I gazed at it for a long moment. It's not that I'm a size queen (okay, that might be a lie) but there's something very aesthetically pleasing about a cock that big, especially when it's as rigid, smooth and perfectly symmetrical as this was.
I was totally overcome by a wave of absolute cock worship. Seriously, I wanted to kneel and worship this perfect phallus like some kind of pagan deity. So, that's exactly what I did.
I took my time licking all around the head and down the shaft, feeling the veins pulse under my tongue, before attempting to take it in my mouth. When it was slippery wet — and my tongue-work was eliciting some very satisfying groans from Adam — I wrapped my lips around the head and started to suck, going deeper on each stroke, inch by inch. I wasn't going slow just to tease, I genuinely didn't know how much of it I could swallow. My fingers were circled around the base, making sure Adam didn't start to thrust before I was ready to take it, as I began to bob my head faster. I went gingerly at first, gagging a few times as it hit the back of my throat; but once I'd established a rhythm, I felt that familiar blissed out, cock drunk feeling suffuse my whole body.
I've told you before that nothing gets me wet quicker than sucking cock and this was a super-sized dick that stimulated a powerful reaction. My panties were drenched as I relaxed my grip on the base of Adam's cock, moving my hands to his hips and pressing them forward as a signal that it was okay for him to start moving. He took it easy, rocking forward to fuck my mouth at a steady pace, not too deep but just enough to make me feel like a bona fide porn star myself.
I was in such a haze of lust that I could have carried on sucking him for hours, lost in the sensation of the heavy weight on my tongue, the girth stretching my lips wide, his fingers tangled in my hair; but Adam finally said, "Hey, I don't want to cum before I fuck you."
Reluctantly, I let his monster cock slide out of my mouth, getting unsteadily to my feet and letting him undress me and lead me to the bed, feeling slightly dazed and lightheaded from the intensity of sucking something so immense, not to mention the lack of oxygen. I sobered up quickly enough when he was kneeling between my spread thighs, ready to feed it inside me, though. Was I really going to be able to take something that big?
There was no time for foreplay, so Adam grabbed a glass of clear liquid from the nightstand — I'm guessing it was water but who knows, it could have been neat vodka, I'd noticed a few bottles in the room and they were clearly boys who liked to party. He took a big mouthful, spat it into his hand and swiped it over my pussy to lube me up. I was certainly wet and aroused enough to take an average sized cock, but I needed something to ease the way for this Leviathan. Then slowly, blue eyes locked on mine, he stroked the head of his cock up and down the slick groove between my pussy lips until they spread open for him, dipped a little way into the wet entrance to my core, and pressed in. He took it slow, the stretch and burn almost too much at first, filling me like nothing I'd ever experienced before.
When he was all the way inside me he held still for a while, letting me get used to the sensation. And then he started to thrust in and out, and… oh, yes! His cock seemed to slide over every sensitive spot inside my pussy at once, over-stimulating me to the point of no return. My eyes raked down his toned body, abs flexing as he pumped his hips, fixing on the thick shaft pistoning in and out of me, shiny with juice and saliva. Possibly the most porno image I'd ever seen in real life, scorched onto my brain indelibly; the filthy visual combined with the potent sensation of every nerve ending in my cunt being triggered at once was magnificent.
It wasn't the most imaginative fucking I'd ever received, but it was definitely the most vigorous, as he slammed into me over and over with the stamina only a 20-something-year-old porn stud could muster. And it was devastatingly effective; just so big, so hard, so much. Adam's roommates had left some dance music playing, the frenetic beat perfectly suited to the jackhammer tempo of his strokes as he banged me to an orgasm that led to another, and another, a chain of mini explosions culminating in a titanic one as he plunged in up to the hilt and blasted his hot load inside me.
I looked at my watch. "Damn, I have to go now, like right now!" I grabbed a towel from the bathroom and wiped off the sweat and saliva and cum as best I could, then dressed rapidly. At first Adam just watched in a post-coital haze, but when he realized I was serious he pulled on his jeans and walked me to the elevator bare-chested and barefoot. I was glad we didn't run into anyone as it was blatantly obvious what we'd been doing, both of us flushed and dishevelled.
Our kiss goodbye was that of two miscreants sharing a last conspiratorial moment — and then I was racing to the bar to retrieve my case from my friend, who merely said, "Well, you look like you had a good time," as she walked to the taxi line with me to say goodbye.
I made it to the airport with minutes to spare, and it was only as I stood in line to board the plane, feeling the telltale trickle of wetness down the inside of my thigh, that it hit me like a ton of bricks: I just had sex with a porn star.
I felt the imprint of his huge cock inside me as the plane took off and I stared down at the Strip, the hotels shrinking to Monopoly pieces as we rose in the sky. I felt it for hours. But the imprint of the experience on my mind, that's something that will stay with me forever.
Thanks for reading! Applause, comments and follows get me hot 😉
More confessions from me here — if you think you can handle it! Maybe have a cold shower first…