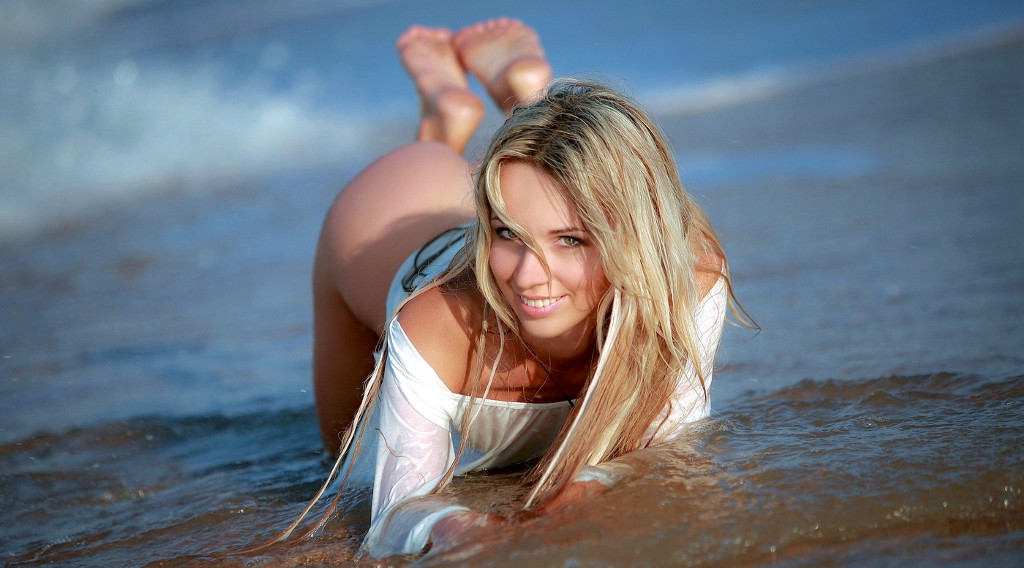 The rhythm of their cocks thrusting into my mouth and pussy is in such sweet synchronicity with the crashing of the waves on the shore that it feels like a force of nature, as irresistible and inevitable as the tide.
Senses heightened, I smell salt and ozone, fresh sweat and tanning lotion. The sun and sea breeze caress my bare skin, my wet t-shirt clinging coldly where it's been pushed down around my waist. The tang of the pre-cum pooling on my tongue as I suck is no less delightful than the rising pressure on my G-spot from the thick shaft surging in and sliding out of me relentlessly. This is bliss…
Sex on the beach in England is not typically a sun-drenched affair (although the wild, windswept coast on a stormy day can have its own unique pleasures) but our unprecedented blazing summer has driven me out of the city to a vacation cottage near the sea. There are no close neighbors — a good thing, as assorted friends and fuckpals have been descending on me in droves — and the discovery of a secluded and near-deserted beach has been the icing on a very delicious cake.
We're there now; it's late evening, the golden hour when the light is at its most enchanting, and I can hear a bunch of my friends talking and laughing and playing music on the other side of the dunes. They won't interrupt us — unless we invite them to — but I like the sociable way their voices mingle with the lapping white noise of the ocean. As a soundtrack to fucking, it's unbeatable.
How did this start? The usual way I guess, flirty comments and meaningful glances, a fleeting thought I'd like to fuck him right now turning into an imperative command from my libido. Sometimes I just NEED to get fucked — and I find the scent of sun on hot skin a powerful aphrodisiac*.
My best friend Tony has his fingers loosely wrapped in my sea-dampened hair as he rocks his pelvis forward to thrust between my lips. I need both hands for balance on the sand — and to brace myself against the steady but vigorous screwing I'm getting from behind — so I let him fuck my mouth as hard and deep as he likes, knowing I can take it.
It never ceases to amaze me how wet I get whenever I suck dick. Is it the sublime dichotomy of control/loss of control that does it for me? Maybe it's just that I'm a horny little cocksucker who gets off on the sensation of that rigid column of flesh invading my mouth and throat. Whatever, the idyllic setting is making it especially arousing today, and Tony groans appreciatively as my tongue massages the underside of his thick shaft on each out-stroke. The fresh burst of pleasure it gives me each time I feel his cock twitch and pulse in my mouth sends a current of excitement directly to my soaked snatch, making it clutch around Victor's dick as it slams into me. Victor doubles as my personal trainer when he's not fucking me, and I know from treasured experience that he can keep this pace up for hours.
Tony is feeling the heat, though.
"Jesus, babe, I'm gonna have to send for reinforcements if you keep sucking me like that," he groans, pulling out of my mouth with a pop.
"Do it," I laugh.
He takes me at my word, whistling and calling to summon back-up — but it's not another of the boys he's sending for, it's my girlfriend Cherry, who is very clever with her tongue.
The guys switch ends, Vic claiming my mouth while Tony hangs back to catch his breath and enjoy the view of Cherry licking and rubbing my juiced-up cunt. She lies on her back so I can grind on her pretty face, her tongue lapping insistently at my clit. It's a wonderful feeling, ripples of heat and pressure teasing out more trickles of wetness from deep inside, keeping my sugar walls spasming until Tony is ready to re-enter the fray.
His initial thrust into me barrels me forward so I swallow Vic's impressive erection right to the hilt. I stay there, lips suctioning tight around his root, as Tony finds his rhythm, impaling me hard and withdrawing smoothly, my darling dependable swordsman. Tony and Vic have shared me before but Cherry's tongue dancing on my clit adds another dimension, my pussy stimulated inside and out as Vic stretches my mouth wide. I'm soon deeply immersed in the joyful task of sucking this beautiful cock until it's throbbing urgently between my lips, while Tony and Cherry coax me towards the brink. My climax builds in rolling waves, each cresting over me at a higher peak until I'm suddenly jolting through an intense orgasm that leaves me so flooded with endorphins I must be glowing.
I don't quite know how I manage to keep Vic's cock in my mouth as I orgasm, but somehow I do, and I could easily make him cum right now with one more flick of my tongue — but it seems a little selfish not to share, since Cherry has given me such excellent oral attention. I offer her a taste, and she wriggles out from under me and joins me in licking and sucking Vic's dick. She seems a little overwhelmed by its girth, but once I have my fingers sliding in and out of her wet pussy she finds the rhythm, our tongues and lips moving in harmony up and down his saliva-slick shaft, nuzzling his balls and slurping at the seeping head like it's the tastiest popsicle ever.
Tony is still fucking me steadily from behind, leaning over me to grind his fingers on my clit just the way I like it, clinging grains of sand adding just the right amount of friction. He accelerates until I suddenly cum again, then pulls out and shuffles around on the sand until he's kneeling beside Vic.
Cherry and I get the idea, each stroking one dick while sucking the other; she's giggling breathlessly as Tony suddenly erupts over her face, but I prefer to swallow Vic's load, wrapping my lips around the head as it starts to pump out, and gulping it down like a briny oyster fresh from the sea.
I lick Tony's cum from Cherry's sweet lips as I finish her off with my fingers, and then we decide one orgasm isn't really enough, so Tony eats her pussy (with my fingers still in it) until she cums again. We are all very sticky and sandy and sweaty by this point, so we go skinny-dipping. I can't help but feel the sea is welcoming us in her wet embrace, having set the tempo for our fucking so perfectly. Sand between the toes is a small price to pay for such naked happiness.
* I don't know if this is weird, but the smell of my own skin in the sun really turns me on. Is it melanin that gives it that luscious, beachy scent? In summer I always wear Clarins' Eau Ensoleillante to enhance it, the closest thing I've ever found to sunshine it a bottle.
Thanks for reading! Applause, comments and follows get me hot 😉
More confessions from me here — if you think you can handle it! Maybe have a cold shower first…