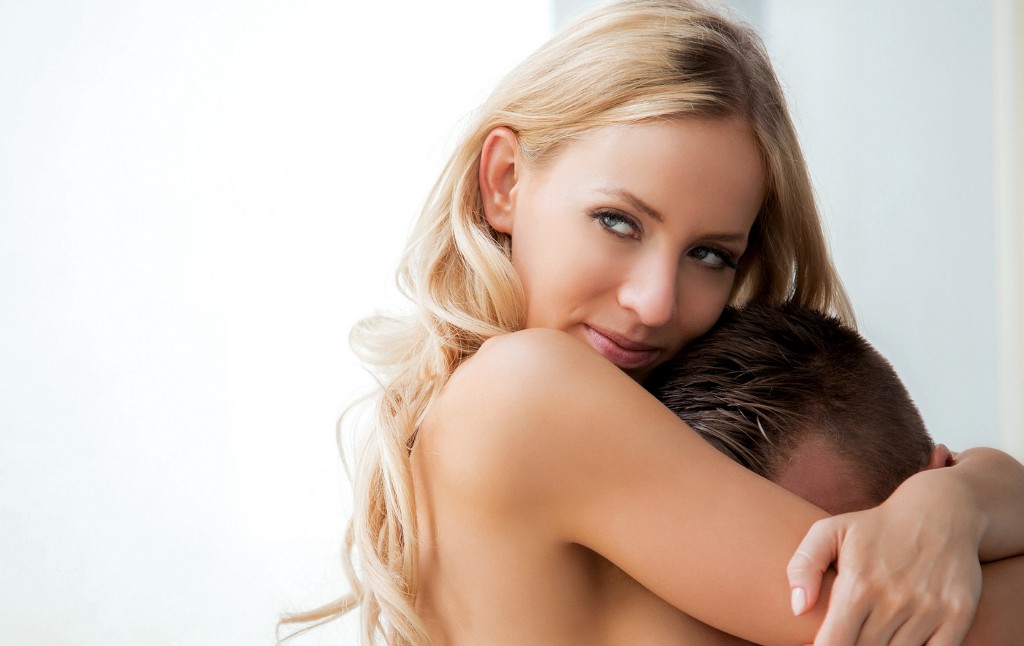 My pussy squeezes tighter around Anton's fingers as I lock eyes with an intriguing stranger across the room. He lets his gaze linger on me appreciatively, then smiles and says something to the dark-haired girl whose head is bobbing at his crotch. She turns around to look at us, nodding her approval and moving aside a little so I can see his dick, which is very hard, and shiny-wet from her licking.
"What do you think?" Anton asks me, thumb stroking across my clit to make me wriggle and shiver. "Would you like to play with those two?"
"I'm game if you are," I say, stretching up so his mouth can find my nipple as I grind down on his fingers a little harder.
We're at an invitation-only couples' party — it's considered indelicate to say swingers, although that's really what it is — at a fancy country home. The hosts are friends of Anton's. Swinging is not really my thing, I prefer my wild encounters to happen spontaneously; but ever since I encouraged Anton to try cross-dressing and then he let me fuck his ass with a toy (read about that in "Your Ass or Mine") his journey of sexual exploration has been so joyful I find myself swept along by his enthusiasm and adventurousness. Besides which, I haven't ridden his beautiful cock for a while, and the idea of doing so in a beautiful location, watched by beautiful people, is quite appealing…
I'm straddling Anton's lap, kissing him between looking around the room, my pussy already soaked as he fingers it discreetly. I'm wearing a wrap dress, no underwear; he's pulled it down to my waist so he can nuzzle my tits. It's a more public display than I usually go in for, but the erotic atmosphere, the stroking and caressing going on around us, not to mention the thick ridge of Anton's stiff cock pressing against me through his pants, has me so aroused.
It's a small, select gathering; honestly there's nobody here that I don't find physically attractive. Sexual chemistry is not just about the purely physical though, so I straighten up my dress and we go over to chat to the couple, who introduce themselves as Leon and Maria. I'm friendly and polite, whereas Anton's opening gambit — offering his pussy-soaked fingers to Maria to lick — is a little less subtle. She accepts with alacrity, looking at me as she sucks his fingers in a lascivious manner that has his cock, already erect from my wriggling and grinding, trying to drill a hole through his pants.
They are charming, funny, and forthright about their interest in us. Though I'm a little distracted by the sight of Leon's thick, tempting cock waving at me like a flagpole as we talk, I listen enough to learn that he and Maria are married, and like to swing occasionally when they are craving "something a little different." He looks pointedly at Anton as he says this. Sounds promising. I still haven't touched either of them yet, but my pussy is throbbing with excitement as we all agree to move to one of the bedrooms. Walking past the partygoers in various stages of undress and foreplay just adds to the anticipation.
The bedroom is light and airy, the bed huge. The guys watch as Maria undoes the tie of my dress and I shrug it off my shoulders and let it fall, standing there in just my heels. I take my time unwrapping her, first removing her top and skirt and admiring her lush curves, then tugging down her bra to let her breasts spill out. They're bigger than mine — I have a more athletic build, thanks to all my hours spent training, dancing and fucking — and I relish weighing them in my palms, jiggling them and squeezing her nipples between my fingertips. Her moans tell me how sensitive they are, so I press them between my lips, flicking my tongue over them to make her gasp. I kneel, kissing my way down her soft stomach, and nuzzle her through her panties until her moans go up an octave; then I peel down the flimsy scrap of damp pink silk to reveal her dark, sparse bush.
I'm greeted by the sweet, musky smell of her arousal as I press my lips to her pussy, swiping my tongue along her slit to taste the cream already seeping out. I push a little deeper, making contact with her clit. Her legs wobble, so I guide her back onto the bed, thighs spread for me, and for our audience of two. Both guys are naked by now, stroking themselves slowly, watching as I tease Maria's pussy open with my tongue and fingers. I'm only planning to get her nicely warmed up, but the moment I take her clit between my lips and suck, she starts quaking and squealing. Either her clit is hypersensitive, or sucking her man's dick has her super-aroused, something I can well understand.
"You need a good fucking," I tell her. "Do you want Anton's cock in your hot little pussy?"
"Oh my god yesssssssss," she hisses. I beckon my fuckbuddy forward, grab a condom from the nightstand and roll it onto his erection, taking the opportunity to give it a few hard strokes. Watching him thrust it into Maria's dark-lipped pussy is really hot. She's more my type than his — I like dusky Mediterranean types, he prefers blondes (especially me!) — but I can see that being watched is turning him on.
I wonder if being watched by another guy is what's doing it for him? Unlike my darling gay boyfriend Rafael, who delights in telling me the intimate ins and outs of everyone he does (and has even let me watch on occasion), Anton has never explicitly revealed that he's bi-curious… but I can't believe any man who shares my obsession with Philippe, Duke of Orléans can be entirely straight. Let's find out…
I take Leon's hand — a little spark of electricity goes through me as we touch for the first time — and pull him onto the bed beside me, close enough for all four of us to touch. As we kiss (and wow, he's a great kisser, firm and dominant enough to suggest he understands exactly how to please me) I run my hand down his chest and over his abs, which twitch nicely in response, to his cock. That first contact is so exciting, feeling it pulse and swell in my hand, so hard and hot. I want it in my mouth, and I figure that will leave him free to do as he wishes with his hands.
I steer him a little closer to Anton and Maria before I shimmy down to lick the slick head of his cock, getting the measure of it before I take it between my lips. He grins delightedly and throws his head back with a groan of pleasure, but he's soon focusing again, first looking down at the point where his thickening cock is disappearing into my mouth, then across to the point where my fuckbuddy's dick is thrusting slowly and steadily into his wife's cunt, smeared with her wetness. He licks his lips, transfixed by the sight; then asks Anton, "May I touch?"
I'm not surprised when Anton nods without hesitation. It's beautiful to see the flush rising in his cheeks as Leon leans in and strokes his fingertips over the juncture where Anton's slippery pole is sliding into Maria's pussy, her plump lips stretched around it. Leon rubs Maria's clit, then circles his fingers around Anton's pistoning dick, so my friend is fucking his fist at the same time as his wife's pussy.
Suitably inspired by the sight, I suck Leon's cock deeper, my lips inching down his shaft, then pulling up again, tight enough to make him groan. I hit my rhythm, lost in the blissful task of sucking cock, my mouth and throat full of his masculine flavor, enjoying the harmonious sound of all three of them gasping and moaning. Every so often I pull back for a quick glimpse of Leon's hand wrapped around Anton's cock, as if jerking him off into Maria's pussy. Then I immerse myself in happy cocksucking again, my whole body singing with the pleasure of it.
I ease up when I feel Leon's shaft start to twitch too strongly, not wanting him to cum before he's had the chance to sample other pleasures.
"What's next?" I ask him with a smile. But it's Maria who answers.
"Sit on my face," she says, reaching out for me. She's been enjoying a string of orgasms around Anton's cock, spurred on by her husband's fingers brushing her clit on every inward stroke, but it doesn't seem to have dampened her hunger for sensation at all. And I'm more than ready; sucking cock always has that effect on me.
I straddle Maria's pretty face, sinking down to let her lick me. Her tongue is skilful, dancing over my clit, pressing harder as I rock my hips to ride the sensations. But what's really turning me on is the sight of Leon's fist pumping around Anton's cock as he pushes it into Maria's pussy. I tip forward into a sixty-nine, grinding on Maria's mouth as I lick her clit and Leon's fingers and Anton's dick, all deliciously wet and pussy-flavored. It rapidly sends her into overdrive, bucking so hard with her orgasm that Anton has to stop thrusting and just stay buried deep as she convulses around his cock.
Watching her get off so hard on my fuckbuddy's gorgeous cock has me craving penetration, so when Leon leans in to kiss me and asks, "Can we fuck you now?" I tell him, yes, please, right now, please fuck me, I want it now. In my eagerness, I miss the significance of that little word "we" at first…
I watch, still rocking slowly on Maria's tongue, as Anton rolls a condom onto Leon's cock, just as I did for him. His hand stays there longer than strictly necessary, stroking the fat shaft; the guys exchange a significant look, and then kiss, just a brief brush of the lips really, but I see how Anton's dick jumps in response. Then they both move behind me, and I tip forward, face down at Maria's pussy, ass up, as Leon strokes the head of his cock against my entrance and slowly thrusts inside.
That first moment of being stretched open by a thick cock is sheer bliss, a violent surge of sensation, made all the more thrilling as I have three pairs of hands all over me, grabbing and squeezing my ass, rubbing my clit, teasing and exploring. And then I get to feel what Maria felt, as Anton wraps his fist around Leon's dick, grinding his knuckles on my clit hard, just the way I like it. Leon is a perfect size, not huge but big enough to fill me beautifully. He slams into me to a steady driving rhythm, so all I can do is gasp and moan with my face resting on his wife's thigh, my fingers in her soaked slit. And then Anton does something that tips me over the edge, pushing two fingers into my creamed-up cunt alongside Leon's cock. He twists them around, rubbing my G-spot, stroking Leon's shaft inside me, and I'm shaking and moaning and cumming hard around cock and fingers, my whole body consumed with the blazing fire of orgasm.
The intensity is too much for Leon; he keeps thrusting through my fireworks, then slowly pulls out, groaning with the effort of holding back. But I don't have a moment to catch my breath, as Anton immediately takes his place, thrusting into me hard. His cock is a little longer and thinner than Leon's, but he has the advantage of knowing exactly how I like to get fucked. He grips my hips and jackhammers into me, not holding anything back, keeping me suspended on the spiralling verge of orgasm for what seems like ages, then igniting the explosion with a particularly hard, deep thrust. When Leon moves behind him, grinding up against his ass and stroking his balls and the pussy-drenched root of his cock, he's done for; he pulls out just in time to whip off the condom and shoot his hot load all over my ass cheeks, letting it trickle down for Maria to lick up. Her fingers replace his cock inside me, teasing out the powerful aftershocks of my climax.
Now I want to see Leon cum, impressed he's held back for so long. I turn around, peeling off the sticky condom and stroking his rigid shaft, leaning in to suck it…
"May I?" Anton asks, shyly, as if not sure this is permitted. Leon growls in the affirmative, eyes wide. I beckon Anton closer, quickly wiping away the taint of latex with my tongue and saliva-wet palms. I want Anton's first taste of cock to be delicious.
He laps at the head, tentatively at first, but the sight and sensation of his tongue curling around the head still makes Leon groan and curse under his breath. Experimentally, he sucks down an inch, then a little deeper. He starts to bob his head, then goes too fast and gags slightly, handing it back to me while he takes a breath. Soon we are swapping it back and forth, each sucking for a few strokes at a time; I've done this with girlfriends on many occasions but it's my first time sharing a cock with a man, and it's one hell of a kinky turn on.
Anton's expression is rapt, his cheeks flushed and his cock already rising again. Maria seems just as excited by the sight as I am, the fingers of one hand jammed in her pussy while the other roams over my body, pinching my nipples, rubbing my clit and holding my long hair up so everyone can see Leon's cock sliding between my lips.
"Gonna cum…" Leon eventually growls, giving us the opportunity to pull away, but instead I ram his cock deeper down my throat so I feel the virile twitching and pumping as he starts to shoot. I take the first couple of spurts in my mouth, then pull back to let Anton try it. He takes the rest in his mouth and over his face, sharing it with me in a creamy kiss.
Maria seems utterly insatiable, and I eat her pussy again while the guys recover, pushing two wet fingers up her ass and sucking on her clit fiercely, making her scream and sob with the force of her orgasm. The guys are kissing and talking rather sweetly. I wonder if Anton's ready for round two, but then he wraps up the conversation and starts to get dressed, so I do likewise, and we say goodnight to our new friends. Of course we exchange numbers — playmates with such stamina and open minds are worth holding on to!
Anton and I agree we've swung enough for one night, and head back to his place for a long hot shower, and a slow, comfortable screw as we relive the evening's highlights and he shares his feelings about what we did. Seeing my dear, horny friend glowing with the thrill of these new experiences is such a pleasure for me — particularly when it involves me getting so well fucked too!
Thanks for reading! Applause, comments and follows get me hot 😉
More confessions from me here — if you think you can handle it! Maybe have a cold shower first…