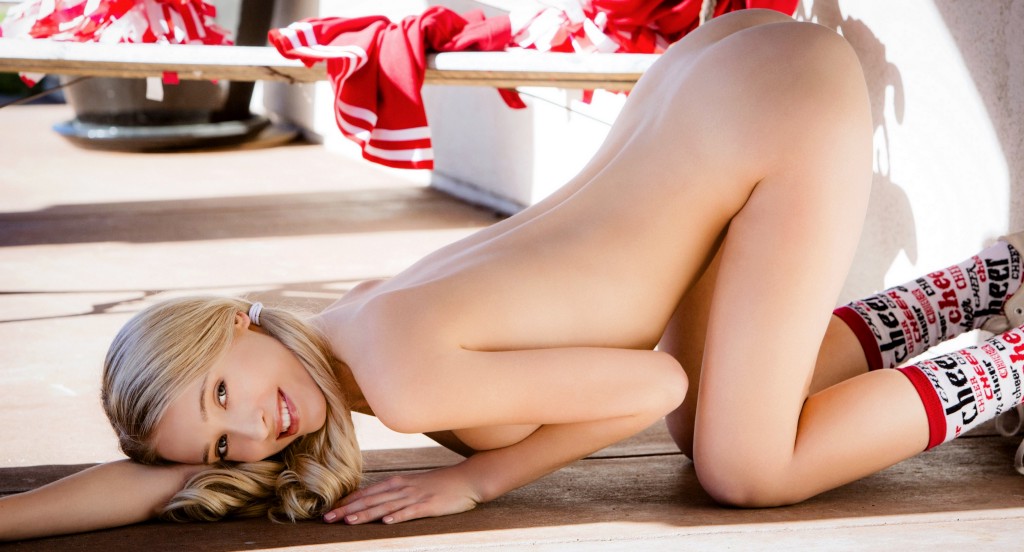 "Do you like how I suck it, Coach?"
He tugs on my pigtails like reins as he fucks me from behind, forcefully enough to make a slapping sound as skin meets skin. I whoop and holler rambunctiously, giving him the full cheerleader experience; after all, he is giving me plenty to cheer about.
His dick is just the ideal size that he can ram as hard as he likes, which is pretty hard right now. My exuberant display of perky dance moves has made him stiff as a poker, possibly because I performed them without panties so he'd get a flash of my silky-smooth pussy with every high kick.
Now he has me on my knees with my long blonde hair wrapped around his hands as he thrusts, his cock pistoning in and out with just enough friction to make me squeal. In this position it drags against my G-spot deliciously on each out stroke, and I squeeze around it to the rhythm of his grunts until the heat is flaring through me in blissful waves.
I knew this naughty roleplay would drive him wild, but I didn't realize I'd find it such a turn on too…
When a guy buys you a cheerleader outfit, you can be sure there's a pretty specific fantasy driving it — one that's likely to involve upskirt flashing, jiggling titties, and maybe some lesbian locker room fun. I happen to know exactly who put these dirty thoughts in my college professor fuckbuddy Simon's head — because it was me. (Read Tell Me What You Did Today if you want them in your head too).
Ever since I teased him with dirty talk about my all-girl daisy chain he's had a thing for cheerleaders, which is pretty funny as he's a bookish guy, not a sports fan, and I doubt he's ever seen one in real life.
I'm more than happy to indulge him though, as nothing gets me hotter than seeing that elated light in a partner's eyes as I bring their cherished fantasy to life. Besides which, the outfit looks cute on me! I love the thigh-skimming scarlet skirt, short enough to show the curve of my ass cheeks each time I stretch.
I warm up casually at first as I get into character, my voice pitched a little higher and more girly than usual. Simon watches me, enthralled, as I spin an elaborate tale about a night at cheerleader camp that developed into a naked lesbian orgy with my teammates. Although I'm making up the story to fuel his fantasy, the details of the pussy eating binge are appropriated from a genuine experience (one that maybe I'll share one day) and as the memories replay in my mind, I find my nipples getting hard and my pussy getting slick with anticipation.
His cock is tenting out his pants and I'm tempted to make a beeline for it, but I want to show him some classic cheerleader tropes that he can store in his wank bank to jerk off over for years to come. I start with some basic moves, high Vs and shimmies — I'm pretty much making it up on the spot, but as my routine is spiced up considerably by my pantyless state he's way too spellbound to realize.
As I get warmed up, I ramp up the energy, with some jumps and chants: Oh Simon, he's our man, if he can't do it, no one can! It might not be Shakespeare, but it puts a big, goofy grin on his face. I'm shaking my pom-poms vigorously — that's not a euphemism, he has brought me actual red and white pom-poms to match my outfit; although naturally I'm shaking my boobs too. I start to add some high kicks, my skirt flipping up so that he gets a graphic view of my pussy splaying open.
Exercise is my favorite type of foreplay and coupled with the naughty roleplay, not to mention my lover staring at me like I'm the sexiest thing he's ever seen, I'm very aroused indeed. I keep up the kicking and chanting and bouncing around for as long as I can without getting breathless. When he can't hold back from openly jerking off any longer, I greet his cock's appearance with an enthusiastic cheer: no need to fake my excitement, I'm thrilled to see how rigid it is.
"Gimme a C-O-C-K!" I chant as I get on my knees, taking it in my fist and licking a droplet of pre-cum from the tip. It flexes in response, making the veins bulge under my fingers. He groans as I lap up and down, getting his shaft shiny with spit, blowing on the head, tormenting him a little before I wrap my lips around it. He tastes so good, and I love sucking cock so much, inching my lips down the smooth skin as I swallow him a little deeper with each bob of my head. It throbs against my tongue, making my mouth water to lube up the gliding motion of my mouth, loose and slick on the downstroke, tighter on the way up. I feel my pussy getting wetter in response, creaminess gathering at the seam between my plump lips, and I want to touch myself; but I have one hand chasing the movement of my lips up and down on his erection and the other fondling his balls.
He's pretty worked up and I don't want him to cum just yet, so when his groans grow urgent and I feel his thighs tensing, I pull back and look up at him with innocent blue-grey eyes.
"Do you like how I suck it, Coach Simon?" I ask. He nods, jaw set as he tries to calm himself down. I help him out, squeezing just behind the head of his dick, as I continue my teasing. "Please don't tell anyone I've been a bad girl, Coach. I'll do anything you want. You can even put it in my pussy if you promise not to kick me off the team…"
"Fuck…" he breathes.
"Would you like to do that, Coach?" I purr. "You can fuck this tight little cheerleader cunt and I won't tell anyone. It can be our secret."
He nods again, warring expressions sweeping across his face: lust, guilt, lust again. He's a principled man who would never cross the line with one of his college students, which is what makes this filthy fantasy so wrong… and hence, so utterly irresistible. Lust wins.
I walk into his study with my skirt hitched up so he can watch my bare ass lead the way. I wish we were in the classroom at his college where we played a very memorable but risky game before, but never mind; this desk will serve our purpose and at least I can make as much noise as I like here.
I give him my naughtiest look as I bend over the desk, skirt around my waist, legs spread to show him my wet pink slot. I'm expecting him to thrust straight in, but no, he wants something else first.
"Touch it," he says, voice strangled with the effort of remaining composed. "Show me how you finger that little cheerleader cunt and maybe I won't put you in detention for bad behavior."
A little shiver of anticipation flutters through me at his tone of voice; I love that he's getting into the role and taking control. It's followed by a more intense one as I run a fingertip along the hot groove of my pussy. I'm slippery-wet, and my finger slides between my lips like skates on ice. I push it into my velvety hole, adding a second, moving to the instinctive rhythm dictated by the craving at my core. For a moment I forget our game completely, lost in pure sensation as my fingers seek my G-spot and press against it. But then I feel him move behind me, kneeling so his face is right behind my pussy, and I know he's jerking off as he watches me finger-fuck myself. He must be able to see how my fingers are glossed with my wetness as they move in and out, and that thought has me quivering, my sugar walls spasming and my hips bucking as I ride out the jolts of bliss.
"Please fuck me, Coach, I won't tell…" I gasp; and I almost cry with relief as he finally stands and grips my hips, pushing his cock into me with one long thrust. I'm soaked enough that it sinks all the way in on that first stroke, and the tremors of my orgasm have barely begun to die away, so as I rub my clit rapidly, I immediately start cumming again around his cock. The steely hardness of his shaft inside me gives my sensitized pussy something solid to clutch and squeeze, which makes my orgasm way more intense.
I don't often squirt but sometimes a really hard pounding will get me there, and as he starts slamming into me full force, I feel the pressure at my G-spot and clit fusing into an unstoppable urge. He grabs my pigtails and tugs, speeding up his pace until he's jackhammering into me, making my ass cheeks ripple and my breasts bounce with the impact of his weight against mine. My whole body tenses and tenses, and then releases in a gush of liquid that splatters over the wood floor as I cum like a tidal wave.
"Dirty girl," he grunts through gritted teeth, and then he suddenly pushes my legs together and shoves in deep, so my spasming pussy grips his cock like a vise, milking out the scorching spurts of his cum.
We stay locked together like that for a long moment. With my thighs pinned shut and his dick still buried inside me, the throbbing at my clit just won't die away, and the sloppy feeling of his cum filling me is keeping me right on the edge. He senses that I'm not done yet, and eases his softening cock in and out a fraction, just enough that I can feel it stirring his jizz around inside me. He pushes his hand between my clenched thighs so I can grind against it, and I orgasm again in a series of jolting convulsions, yelling with each one.
Finally his cock softens sufficiently to slip out of me, accompanied by a stream of semen and pussy juice that adds to the puddle on the floor.
"Holy fuck, Rose! You make me feel like such a dirty old man," he says unrepentantly.
"You're welcome, Coach," I reply with a saucy wink. "Now, why don't you join me in the shower, and I'll tell you what I did in the locker room with the rest of the cheerleading squad after practice last week…"
More confessions from me here — if you think you can handle it! Maybe have a cold shower first…