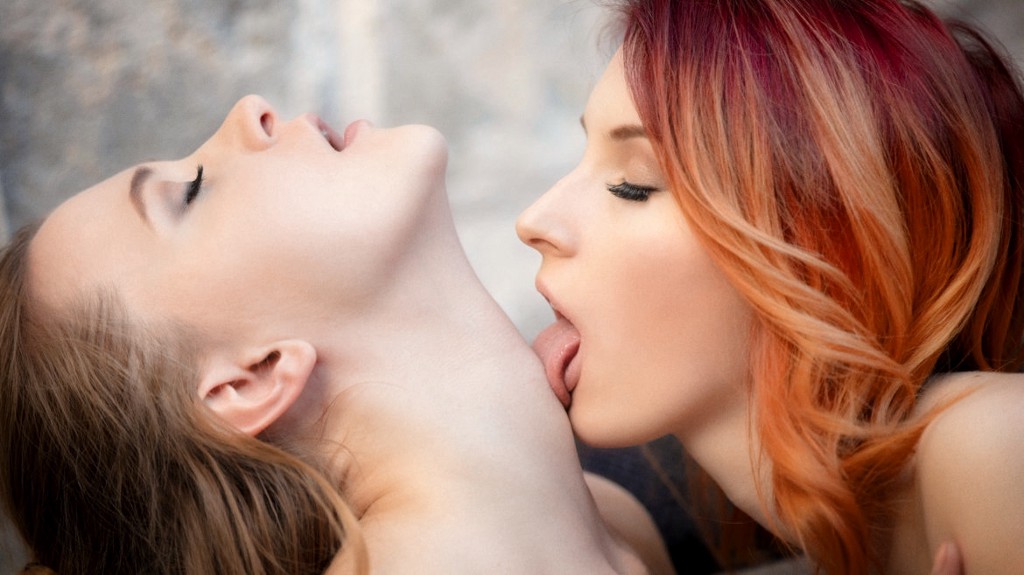 Her hips move with mine, so close I feel the plump pressure of her pussy like a kiss against my own. Each synchronous swivel and sway of our bodies fuels my mounting lust for her, tempting me to squeeze her perfect peach of an ass and grind my thigh against her mound of Venus until she's leaving a wet trail on my skin.
Fiebre, que no descansa, y va bajando lentamente resbalando por mi espalda…
I'm choreographing a group salsa for a friend's wedding, and I've drafted in one of my girlfriends, Cherry, to help me put it together. My first mistake was to believe I could be this close to her and actually focus on the dance steps. She smells so luscious, and as I hold her in my arms, I can count each freckle on her pretty face. They look like a dusting of brown sugar. I want to lick them off. I know she feels it too; her fingers are making small, insistent circles on my back, very reminiscent of the way she rubs my clit.
My second mistake was to watch the music video with her, to get some inspiration. The song I've picked is "Fiebre" by Ricky Martin. Seeing all those gorgeous Latina girls gyrating as he sings in his sexy Spanish had us both hot before we even started dancing (the video's below — enjoy!).
For me, it's the perfect storm. A dance that's like horizontal fucking, with a girl who has the sweetest, juiciest pussy, to a language that turns me on like crazy… if you need a little reminder of what suggestive Spanish lyrics do to me, read this:
Mixtape: my gay boyfriend's voice gets my pussy so wet…
Cherry bends me back in a dip and licks from my clavicle to my jaw, making me shiver.
"Promise you'll dance this with me at the wedding?" she asks.
"I promise," I murmur, knowing that every guest there will immediately realize that we're fucking. It's a lesbian wedding so nobody will raise an eyebrow at two girls dancing together, but salsa moves performed with someone you're really into are so intimate you might as well get naked and screw on the dance floor.
Damn. Now I can't stop imagining eating her pussy in front of an avid audience of assorted friends, acquaintances and strangers. She's a real squealer. She'd raise the roof.
Concentrate, Rose! I tell myself sternly. We only have a couple of hours to perfect the choreography before I need to be at the dance studio to teach it to the boys. My eyes flutter closed for a moment, as I'm overwhelmed by the thought of holding each of them this close, one after the other — Victor, so virile and blatantly masculine he will lead me through the steps like he's ready to strip me and fuck me right there; Tony, who has the smooth moves but refuses to follow the steps, just like in every other aspect of his life; Anton, whose snake hips might just turn some straight guys gay and some gay girls straight. And ohmigod, what if Rafael makes it? If Raf's there I'm finished.
My knees go weak as I picture them surrounding me, crowding me, salsa-fucking me… while Ricky Martin sings, y que entre tus brazos pierdo la cabeza…
Cherry brings me back to the present moment by executing a slick move that involves hooking her foot behind my ankle, so I fall ass-first on the couch behind me. I'm in high heels, of course — you just can't salsa in flats — and she kisses softly from the arch of my foot all the way up my calf, and then higher, teasing the sensitive skin of my inner thigh with her clever lips.
My panties are drenched by the time she finally presses her mouth to them, pushing them deeper into the groove between my plump pussy lips with her tongue. I'm so wet from the dirty dancing that the friction of the fabric against my pulsing clit is just what I need.
She replaces her tongue with her fingers, rubbing, hard and fast, driving me rapidly towards the orgasm that's been building, heat gathering at my core ready to explode…
…Then pulls away, peeling my panties off as she goes, leaving me exposed and gasping, hips rocking up to chase her touch.
"Let's dance," she grins wickedly, pulling me to my feet.
Two can play that game, so I flip her skirt up and tug her scarlet panties down, noting with satisfaction that the crotch is stained a darker red with her excitement. I want to bury my face between her thighs, lick the droplets of moisture from her fiery bush, spread her open with my tongue — and I will — but with Ricky on repeat we go cheek to cheek and pussy to pussy, moving together instinctively, foreplay and dancing indistinguishable.
Her big breasts are squashed against me, nipples like diamonds raking my chest. My thigh pries hers open and it's just as I'd imagined, her cunt so hot and juicy as she grinds against my skin, smearing me with her cream. I press harder, gripping her ass as she humps my leg, the rhythm of her hips faltering as her pleasure builds to a peak. A deep flush creeps up her chest as she starts to tremble, breath coming in gasps and soft moans, gaining rapidly in pitch and volume as she starts to orgasm.
As her shudders and squeals subside, she drops me into a deep backbend again, but this time she takes the opportunity to slip her thigh between mine, gliding against my pussy… fuck, that feels good! Somehow, we end up on the floor, my legs around her waist, her wet, open cunt mashing on mine so I can feel the drenched heat of her.
We slip and slide and rub and hump on each other to a deeper, more primal rhythm now, both utterly focused on our goal, until we reach a crescendo together, sticky and breathless. It's the kind of orgasm that just makes me hungry for more, and I need to taste the sweet juice brimming from that soaked slit, so I flip her onto her back and turn around into a sixty-nine, dipping my face between her legs to lap her nectar from the source. I can almost hear the approving gasps of the wedding guests as I take her clit between my lips…
The boys can wait a little longer.
Thanks to Ali Wyles for the music prompt
More of my music inspired encounters:
And you can find more confessions from me here — if you think you can handle it! Maybe have a cold shower first…