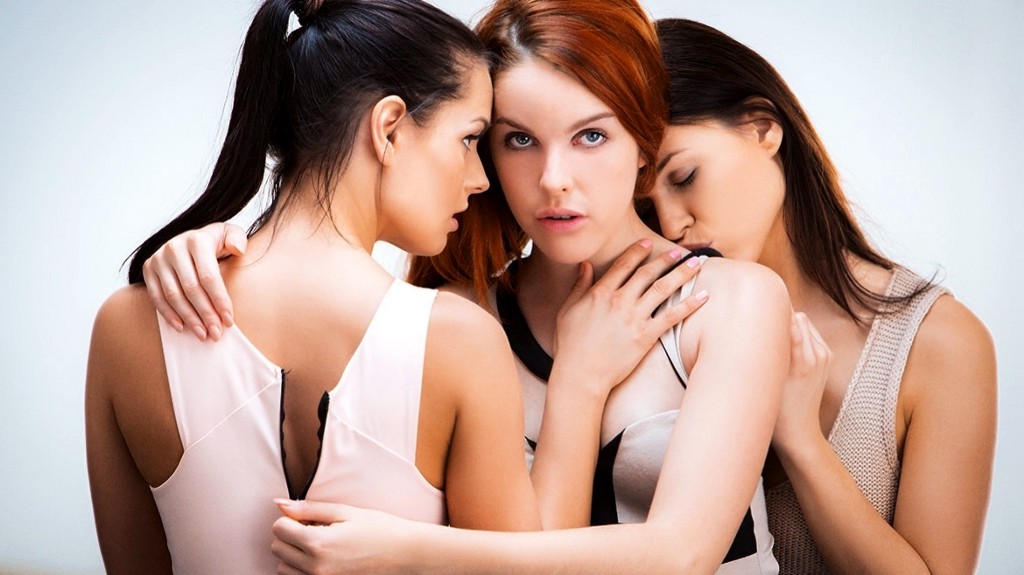 A private party for four…
It was just a regular Saturday afternoon get together; a few girlfriends, a couple of left-over holiday bottles of champagne, time spent laughing and catching up, and my husband, James. He is an amazing cook and he showed Tamara and Sophia pictures of some of the wonderful dishes he'd made over the past few weeks.
"Food porn," I commented as we eyed the pictures of artfully plated dishes he had on his phone. In the background the muted sounds of moaning emanated from the television in the bedroom, which was playing porn with people in it.
"You're making it tough for other men to compete," Sophia said to James with a laugh. "My list of what I want in a husband has just gotten more specific." Both Tamara and Sophia are divorced, and as far as I know are not particularly interested in getting remarried any time soon, but perhaps not ruling that out for sometime down the line. James is a tall yardstick to measure against though; he is pretty much the ideal husband.
"He's definitely got a lot of good qualities," said Tam smilingly. "James actually likes it that his wife fucks other people, he's got a lot of stamina, and his oral skills are outstanding!" Gourmet cook, not jealous, great sex partner— oh, and did I mention he's tall and handsome as well? James may not be perfect (he's still human, after all), but he is pretty near ideal, particularly when it comes to a party like this. This is not his harem; not by any stretch. James is just one of the four participants in this little shindig, and if that means that somewhere along the way he's going to find himself with three mouths on his cock at the same time or fucking one beauty while another rides his face, well, that's just one of the many upsides of having friends like these.
We've been playing with Tamara for over a year now, but this was our first time adding Sophia into the mix. Our biggest concern with this new play partner was that we might break Tamara's bed with all four of us in it, so we decided to see what we could cook up for fun on the sectional sofa.
Tamara topped off everyone's champagne glass and we all started to undress as we kept up the banter and the laughing. Sophia had on a black and silver mini-dress and fishnet stockings. She was going to the Hanson concert directly afterwards and we teased her a bit about that, even as we admired how hot she looked in those fishnets and garter belt. She decided to keep them on, but nothing else.
James stood behind me and kissed the back of my neck as he helped me to unhook the black lace demibra that I was fairly busting out of. He cupped my breasts from behind and I squeezed his leg and gave him a quick kiss back before melting into Tamara's arms. She's tall, like me, and our bodies fit together easily, our lips quite familiar and comfortable with each other. Our nipples line up and they tickled and teased each other as we kissed. James moved over to find out more about what Sophia's kisses were like and to get more acquainted with the curve of her round apple ass.
James and I had recently been on vacation at a place where topless sunbathing was the norm. My breasts were still tan but Sophia had two small white triangles across hers. Tam has creamy skin and dark black hair. She doesn't sunbathe and her breasts are the same milk white as the rest of her skin, at least the parts that aren't covered in tattoos, which is a lot of her. Tamara had just finished up both of her sleeves and they looked stupendous. I've never been much of a sleeves fan, particularly on women, but Tamara's tattoos don't make her look like a biker chick — rather, they make her look like a walking work of art, with geometric shapes interspersed with a tapestry of mythological looking women. After a full examination of each pair of tits, James declared that there were no bad breasts, particularly not in that room.
He and Tamara moved together to kiss and fondle, while Sophia laid me down on the sectional and began lapping at my pussy with enthusiasm. Her tongue probed all of my folds and then centered on my clit. We were really starting to get into a good groove when Tamara said, "I want to see you squirt — that never gets old!"
In order to manage this particular party trick, I need to be able to concentrate and also to have a certain set of conditions. In other words, I need my favorite vibrator, and either James' fingers or a dildo inside me. Sophia's talented tongue had gotten me off to a good start, so when she moved over to make way for James' hand, I was well on my way to being ready. He tickled my G-spot for a while as I buzzed away at my own clit, teasing my little love button just right as James teased the inner nerve endings of it from the inside. But people kept talking, kissing, commenting. I was finding it difficult to get into the zone, even with Tamara nuzzling my neck and making little mewling sounds of pleasure while Sophia fondled her in some way with one hand, her other hand on my one free breast, pleasuring me.
James got interested in what Sophia was doing and asked to trade positions with Tam, who was more than happy to come down for a ringside seat. Tamara has nails that are sharpened to a point so I didn't particularly want those inside of me, although they feel wonderful running down my back. Instead, she got out her favorite dildo and fucked me with it rhythmically, beautifully, until I started bucking and moaning and christened the end of her leather sofa with a tall arc of spray.
"That's just so cool," Tam exclaimed.
"Oh, my god, that was amazing," Sophia agreed.
"I hope I didn't make too much of a mess," I said, as Tamara handed me a towel and mopped up the sofa with another one. Next time I'll have to have one of them film me, because I have no idea what it looks like when I squirt. I'm too busy off in pleasureland to notice.
The party continued from there, with Hot Tetris continuing to keep us all fascinated with each other. We even forgot to use the fucking machine, which Tamara had gotten out, but we never got around to using. Occasionally, there would be some pairing off, but mostly it was the four of us all together — touching, tonguing, fingering, fucking. And throughout this there was nearly non-stop talking and laughing, a little snacking, and a bit more drinking as well. It was just a regular old party, except for the fact that we were all naked and fucking up a storm.
As it was getting near the time when Sophia would need to leave for the Hanson concert, Tamara asked if they could watch me and James together. I'm not really an exhibitionist, but what I've learned is that it's a different thing to have strangers watching you than it is to have intimate friends watch you. That, I do actually enjoy, because it's within the context of connection to them also. I got on my hands and knees so that James could enter me from behind and he pumped me hard so that I couldn't help but make little exclamations.
"Oh yeah…. fuck yeah!" until James came across my back.
While he cleaned me up and the others began to dress, Tam told us about a live sex show she'd once seen in Amsterdam, and how artistically done it was. As we figured out whose little black panties on the floor were whose, we continued to chat…. about travel, about sex hotels in Brazil, about Sophia's plans to try to meet Hanson after the show.
Dressed again, we had our last sips of champagne, gathered our stuff together and kissed each other goodbye with a promise to do this again sometime soon. It had been a wonderful party and I left smiling, with the ideal husband in tow, and we went and had some dinner. We had really worked up an appetite.