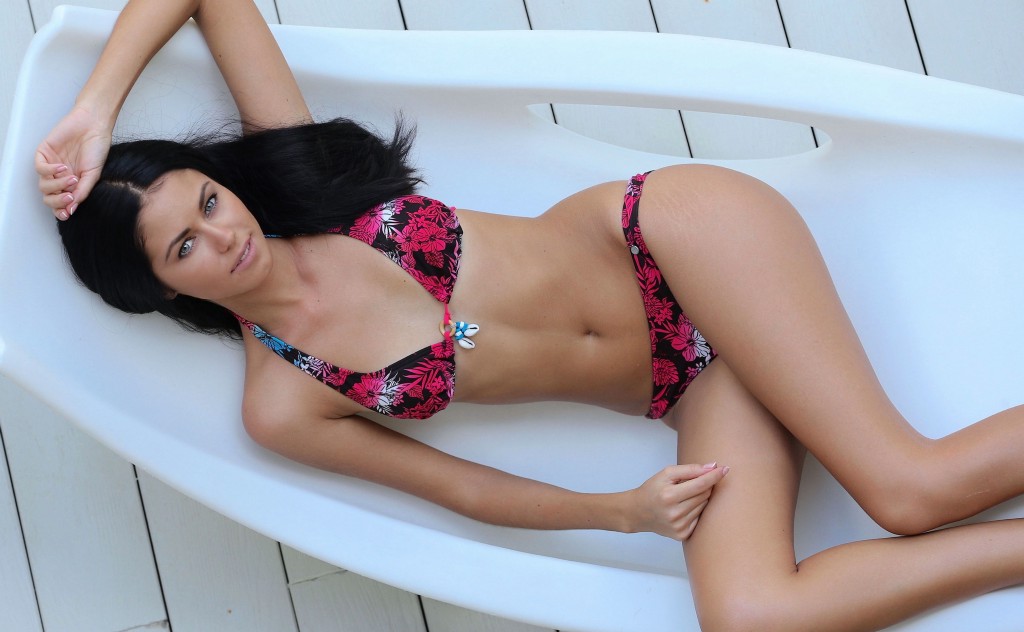 "Oh my God," she gasped. "I don't even think I'm going to be able to fit this inside of me."
A look of lustful hunger swept across Angela's face as her dark eyes looked my cock up and down. She slowly jerked me off and smiled, looking back up at me. She compared her forearm to my cock. Her eyes widened as she realized my cock was nearly as thick.
"I've never had a guy this big before," she told me with nervous laughter.
I grew harder as I marveled at her beauty. Angela had a classic Italian look. Dark hair, dark eyes, and smooth and supple tanned skin.
I couldn't believe that the situation had escalated to this level. We had flirted for years, but we always saw each other as forbidden fruit. Angela was my best friend's girlfriend, then his fiancee. I didn't want to hurt my friend, and I resisted my attraction to Angela for many years.
I knew that her relationship with Michael had some friction, but I always assumed things were terrific. That's the kind of impression you get when you judge someone based on the fake image they present on Facebook and Instagram. They were a happy, smiling couple.
A group of mutual friends rented a beach house for the weekend. The beach trip revealed a darker side to their relationship. There was constant fighting, and they never got along. Michael was an asshole to her, ordering her around like she was his maid. He told her to make him a sandwich, ordered her to get him a beer. At one point, she wanted to go for a walk with him, and Michael curtly said no. Here she was, pushing for a romantic moment, and he didn't even stop and consider what she wanted.
I couldn't believe the way he treated her. He was so ungrateful for the fact that he was lucky enough to wind up with one of the most beautiful women I'd ever seen. Men stammered when they spoke to her, and always took a look when they walked by. Michael was a blessed man, and he didn't have an ounce of appreciation for what he had. It was unacceptable. His attitude sucked. I suppose that his ego grew as his career blossomed and he just looked at Angela as another possession.
As the trip wore on, I couldn't handle her beauty. All week, I was looking at her in a bikini, watching her delicious curves as they baked in the sun, glistening with sweat. I felt like a creep continually checking her out, but I couldn't help it. She looked like a goddess.
I watched her slowly turning in the sun. It was difficult to watch her apply sunscreen. I got the impression she knew what she was doing. She caught me looking at her, and she rubbed the sunscreen on her tits. She asked me to come over and apply it to her back. I'm pretty sure she could see the bulge in my swim trunks and could feel the nervous lust in my hands.
Michael went out for a run on the beach, and I couldn't resist Angela anymore. She looked at me and smiled at the hungry bulge in my pants. Here we were, going down a forbidden road.
"This is so bad," she said as she felt the bulge through my swim trunks. She dropped to her knees and unveiled my cock.
"You're so much bigger than Michael," she told me.
She began sucking the tip and looking up at me with her big, dark eyes, bobbing up and down on my dick. The slobber dripped down her chin, and she slowly jerked the base of my cock with her hand. She began fingering herself, pushing aside the bikini.
"I bet you didn't know how dirty I can get," she said. She licked my balls and jerked me off at the same time. She began sucking me voraciously. She had a mischievous glint in her eye. She knew what she was doing. She looked up and made eye contact with me as my cock stretched out her mouth and spit began dripping down.
She removed her mouth from my dick and jerked me off, using her spit as a lubricant. I liked to watch her small hands struggle to wrap around my massive dick.
"Michael hasn't fucked me in months," she told me. "I need you to fuck me. I need you to fuck me like a real man. Can you do that?"
I nodded, and she kissed me passionately, then sauntered over to the couch, exaggerating the movement of her hips and ass. She untied her bikini, bent over, and smiled at me.
Instinct overwhelmed me. I was overcome with lustful hunger and lost control of any reason. I looked down at Angela's dripping pussy and knew she was in the same state of animalistic dick-drunk lust.
I grabbed her hips and plunged into her. I loved looking down at that tight, bubbly ass and slender waist. Her beautiful black hair went all the way down her back, nearly draping over her ass. She tossed her hair and let out a gasp as I started to fuck her.
Her sopping wet pussy made a sweet sound as our bodies slapped together. She let out a moan that was a combination of pleasure and pain. Her body was shining from the sunscreen she had applied. Her glistening, tan skin looked beautiful.
"It's so fucking big!" she screamed out. "You are so much fucking bigger than Michael," she told me in between gasps of pleasure.
I gripped her waist tightly and smacked her ass hard. She let out a whimper as my cock stretched out her tight pussy and our sweaty bodies slapped together, harder, faster, rhythmically. It was so wrong, but it felt so fucking good.
I held still and let her fuck me back. She slid her pussy down my hard shaft at her own pace. My cock grew even harder as I looked down at her perfect bubble butt. She twerked her ass up and down my cock.
"Oh my fucking God!" she cried out. "You fuck me so much better than Michael."
It was so fucked up, but I didn't care, and neither did she. This was wrong, but that's why it felt so good.
Hunger took over. I removed myself from her cunt and grabbed her by the waist. I sat down on the couch and lifted her 5 foot, 110-pound frame by the waist and slowly moved her body around my shaft. She bit her lip, turned on by my strength.
She began to ride my dick. It slipped out of her briefly because she was so wet. She frantically used her hand to move it back inside her.
"Goddamnit, fuck me!" she screamed out.
I gripped her waist tightly and took over controlling the pace. I fucked her rapidly, looking at her ass cheeks ripple with each stroke. She tilted her head back and screamed so loudly that the entire house could surely hear what was happening. Neither of us gave a fuck.
"Oh, fuck, yeah! Fuck me like I'm your little slut!"
Her body started to shake as she creamed all over my cock. She collapsed on top of me, kissing me. "This is so wrong, but you feel so fucking good," she said to me.
I smiled and kissed her back.
She lay down on her back on the lounger, displaying her hungry slit to me. She started rubbing her clit while holding eye contact with me.
"I want you to cum inside of me," she said with a devilish look in her eye.
I plunged my throbbing dick inside of her. She spread her legs and pushed them back with her arms. I took control of the situation and began fucking her as hard and fast as I could. Her pussy dripped on the couch.
"I don't care if he fucking knows! I want you to fuck me hard and cum inside of me!" she cried out. "Please, please fucking cum inside of me!"
She screamed out as I spurted within her tight pussy. I held her closer and kissed her as I erupted inside. I looked her right in the eye as I filled her pussy with my cum.
We held each other's sweaty, slick bodies close together. My cock was buried inside of Angela and covered in cum.
"I've wanted this for years," she said to me as she kissed me.
There was no turning back. My friendship with Michael would undoubtedly end, but there was no longer any way that Angela and I could remain apart.
With my cum swirling inside of her, she smiled and looked up at me. "I don't care what Michael says, I'm glad this happened," she said to me. I stroked her cheeks, soaking in her beauty. I looked her in the eye with forceful determination and kissed her, feeling like the luckiest man alive.