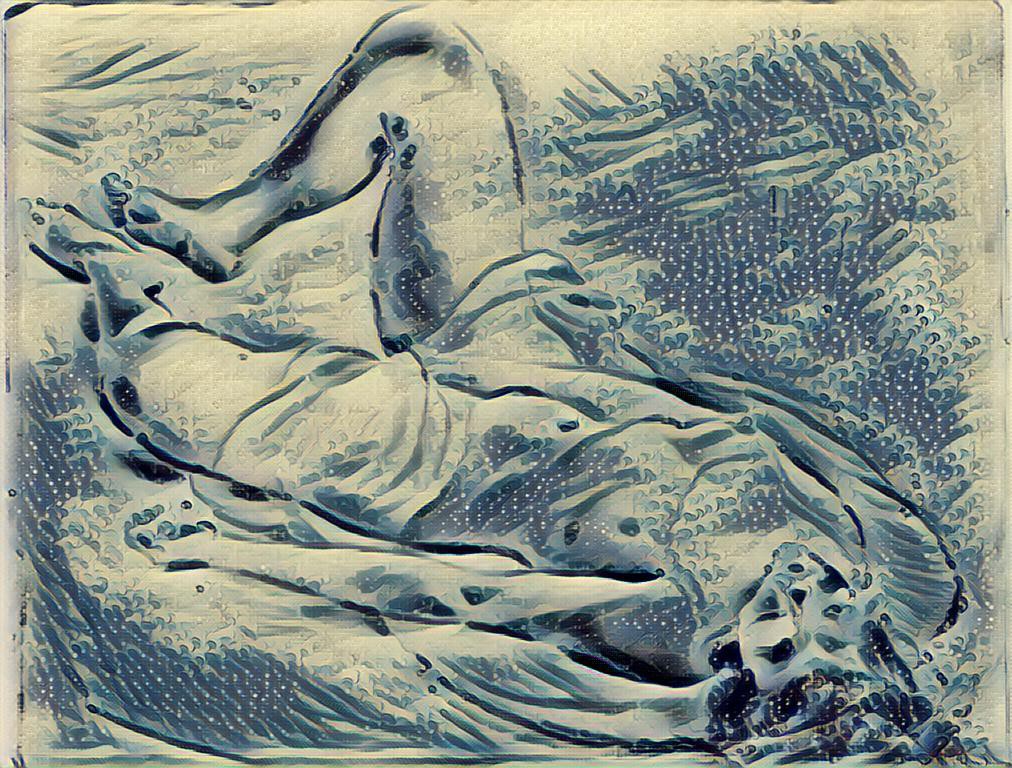 Play can be so much more than just rubbing yourself to climax. So in this post, I'm going to give you some ideas on how to utilise your imagination to achieve truly immersive playtimes. If you enjoy some of the kinky activities I write about in my stories, I've also included links to some naughty games, which describe not just how to play but the aim of each game.
I hope to convince you to be bold, and be creative. That an open mind and a vivid imagination is all you need to achieve wonderful pleasures.
1 Teasing
Teasing is a fundamental erotic skill, whether you're playing alone or with another. It's about varying the pace and the intensity of sensations, testing your self-control and letting the anticipation build.
So rather than starting play by touching your genitals, why not tease yourself for a while first? Try the Sensations game, which encourages you to explore every part of your body without lingering too long on the naughty bits.
Or, you might also try the Words game, where you challenge yourself to read down a list of a hundred kinky phrases without touching yourself.
2 Inspection
If you enjoyed teasing, try going one step further and visually inspecting yourself — the idea here being to explore your own body whilst experiencing minimal physical stimulation.
The Inspections for Girls game lists 12 areas, in order of escalating intimacy. How might you challenge yourself to see how far you can get before your willpower falters and you start masturbating?
Inspection games are ideal opportunities for some in-your-head roleplaying, imagining you're being inspected by a school nurse, or as part of a sex slave auction, or a strip-search. If you don't have female anatomy, there's nothing to stop you imagining you do.
You can also incorporate your own favourite fantasy situation when playing the Bottom Inspection game, which anyone of any gender can play.
3 Denial
If teasing and inspection turn you on, why not see how far you can stretch your self-control?
The Squirm game challenges you to watch something erotic and resist touching yourself for as long as possible, with the possible jeopardy of punishment if you falter too soon.
Another means of denial is the Ups and Downs game, where you can imagine you're standing in front of a strict disciplinarian, obeying their stern instructions…
4 Self-Spanking
Just as vibrators stimulate nerves in the genitals, spankings stimulate nerves in the bottom. Both cause a pleasurable tingling — though the impact of the latter can be more intense, a sensation that can be felt across several layers of your skin, its tingles accompanied by a fiery heat and pleasurable sting.
This means that really self-spanking is just another kind of masturbation, self-love rather than self-mortification, a complementary physical sensation to the joys of genital rubbing. And as those who've experienced a good spanking already know, a smacked bottom serves to greatly intensify pleasures elsewhere.
An easy introduction to self-spanking is to smack your bottom at appropriate moments when reading a spanking story, just as described in the Naked Reading game. Or you might like to ride a pillow as your bottom is spanked.
Those craving a more intense whacking might try creating their own Spanking Machine. And I'd also recommend reading through the reader submissions to my blog, many of which beautifully describe their own self-spanking experiences, which you may find inspiring.
5 Dildo Play
If you own sex toys, why not mix in a little imagination when you play with them? For instance, if you have a suction base for your toy, try the Dildo Ritual game, and imagine yourself participating in some ancient profane erotic rite.
A suction dildo or a butt plug can also be used to play the Throne game, as you sit regally on your intrusion, watching activities staged for Your Majesty's pleasure. Suction dildos also work well on walls, so why not try recreating the scene described in the Fucking on a Train game?
Properly lubed, wide-base dildos can also be used to stretch and penetrate your bottom. So if you haven't yet tried anal masturbation, you might like to experiment, you might be surprised how much you enjoy it.
6 Panty Pulling
A means of playing that doesn't require any toys is tugging your panties up tight, creating pleasurable friction against your crotch, perineum and bottom crevice. As readers have written in to describe, it can lead to some very enjoyable experiences.
If you're new to this way of playing, you might want to try it whilst reading a story, as described in the Secret Reading game.
A more intense experience can be achieved by creating your very own Panty Pulling Chair, where your panties are tied to the back of a chair, and the act of sitting down steadily increases their tightness.
7 Porn Remixing
Many like to play whilst looking at sexy images, but why stop there? Rather than just consuming images passively, why not unleash your creativity, and start remixing them?
One idea is explained in the Drawing Lines game — trace a background picture first (say, of a girl standing in the corner of the headmaster's study), and then switch to a new image (say, of yourself) and use the same paper, you'll be able to create a composite and add yourself to the original image. Choose any imagery you like, the only limit is your imagination.
If you prefer erotic stories to pictures, why not wank as you write a coda to your favourite story, perhaps continuing the tale and imagining what happened, or writing a confession. Then, why not send what you've written to the story's author, I guarantee they'll be delighted to hear how their words inspired you.
Or, if you like to listen to others masturbating or being spanked, why not record yourself playing, and then replay the sounds of your experience as you pleasure yourself?
8 Improvisation
Once you've developed a taste for creative masturbation, you might want to start incorporating items from around your home into your play.
One idea that just needs string and clothes-pegs is the Clothesline game. Another is to fetch some icecubes and tease your sensitive places.
Or, if you have a sturdy pole like a mop or broom handle you can try the Straddle game. This also offers an opportunity for a more meditative experience; rather than chasing a climax, just let yourself balance on the pole, close your eyes and become aware of your breathing. Feel the sensations across your body, your weight pressing into the pole, balance and savour the developing erotic tension.
9 Roleplaying
You probably already have favourite erotic fantasies you like to imagine when you play. But if one of these scenarios was really to happen, what would you wear for it?
What could you improvise from your current wardrobe? Would it be a school uniform, a shirt, a tie and a skirt or trousers? Perhaps something a maid might wear? Or bedtime attire, pyjamas or a nightgown. Or maybe it's by the pool, and you'd be in your swimwear, or in the changing room in your gym kit, or in ballet class in a leotard.
Or perhaps you're imagining an encounter with a lover, so you'd dress seductively, in an evening dress with your most provocative lingerie underneath. Or maybe you'd prefer the garments of a slave, a simple sheet folded, wrapped and tied around your waist.
Whatever you like to imagine, try dressing up, donning an outfit or uniform before you play. Maybe you'll go one step further and flesh out your fantasy by creating an alter-ego character for yourself to inhabit.
10 Being Adventurous
Finally, some ideas for those wanting edgier, more intense experiences.
One idea is described in the Naughty Panties game, where you'll write a symbol on your underwear each time you do something sexy outside your bedroom, to create a wearable record of your erotic escapades. Perhaps being naughty will earn you the good hard spanking you deserve too.
Masochists seeking more intense physical sensations might be interested in the Figging with Ginger game, whilst those turned on by shame and humiliation might enjoy the erotic embarrassment of the Wet Panties games.
Variety is indeed the spice of life. So be bold, try new toys and sensations, experiment, remix and incorporate ideas from your own fantasies, your favourite porn and most cherished stories. Rather than treating erotic material as mere smut to get you off, challenge yourself to see within it new opportunities and inspirations.
And however you play, whether alone or with another, in front of a mirror or under the covers… this post might be one to bookmark and keep, one to return to when you're feeling adventurous…