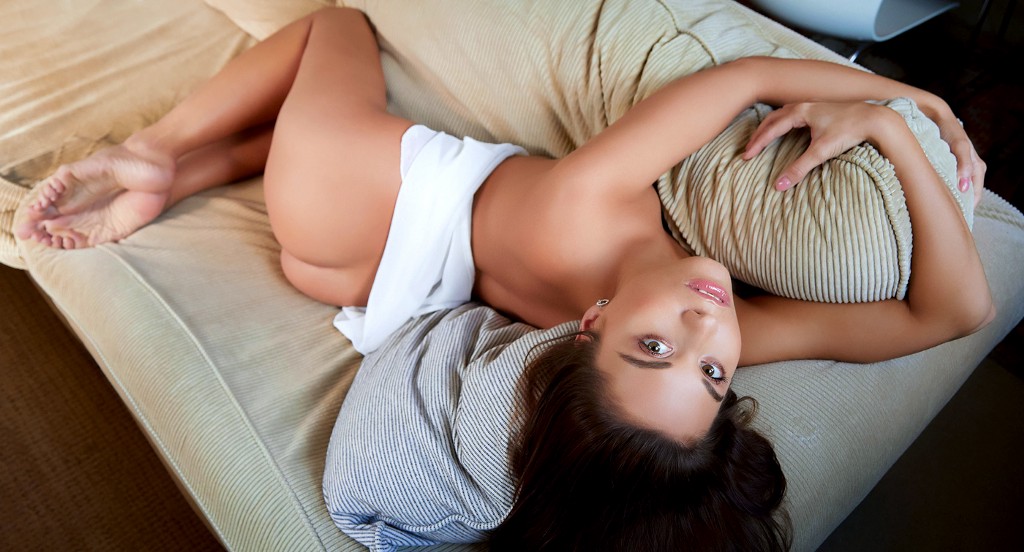 She's Brazilian. Dark-skinned, brunette, with an ass that could make civilised, conscientious objectors rip each other apart. Her eyes are a shade of hazel that inspire men to write bad poetry, and she stares at you like her panties are in a bedroom drawer at home. She has a tiny dress on that barely covers her ass and cleavage. When she sits down or bends over, you can see glimpses of her soaking wet cunt. Your eyes are glued to her tattooed left thigh. It has your name on it. Forename, surname, even your confirmation name.
She sits down and opens her legs slowly and gives you a long linger at her gorgeous Ms. Barbie cunt. Her dress rolls up and you see the Brazilian. Your terrible joke about a Brazilian on a Brazilian makes her smile. The smile lights up her face and makes you look like a smug lottery winner ripe for punching. She walks over slowly, until her cunt is right in your lucky fuck face. It's dark, wet and perfectly trimmed. You lean your head in to kiss and worship it. She pushes it away and gives you a long look at her beautiful, hypnotic arse.
She's perfect. Gorgeous. Striking. Without peer. Right now, she could tell you to walk naked down a freeway and you would be jailed or killed twenty minutes later. That's how much you're at her mercy. You're nothing but a slave. Her fuckin slave. Your cock has drained the blood from your head. Nothing else in the world exists. The universe is barren except for this perfect creature in front of you. She grabs your salivating head and pulls it to her ass. Then she turns around until her intoxicating cunt is in your face. Your tongue is on autopilot. It can't help but taste. She holds your hair as you tongue her soaking wet clit.
'Oh fuck, man. Don't stop.'
She talks dirty to you in Portuguese and groans like you've got a PhD in cunnilingus. You reach down and jerk your cock, while you lick her clit and finger her cunt until she cums on your face. Now it's your turn. She kneels down in front of you like you're a benevolent despot king from hundreds of years ago. She's playing your concubine, but she's still in control.
'Keep going, man! Keep going!'
Your throbbing cock is in her face and she takes it in her mouth like it'll make her exempt from income tax for the rest of her days. Her lips are illusionists making your cock disappear then reappear. She gets you to the edge, the very brink of cumming, then takes her mouth away, bends over and spreads her legs. You enter her. It's the best, tightest, wettest pussy you've ever put your cock in. You have to show a modicum of self-control and think about horrible shit like Rush Limbaugh self-sucking just to stop yourself from shooting right away.
'Fuckin hell. Don't say that, man.'
She rubs her clit as you thrust into her, and you slip a finger in her asshole. She moans louder. Her perfect cunt grips your cock. She wants it faster. Harder. You do what she says and fuck her deeper. She suddenly convulses and tells you she's cumming…
'Aw, fuck! Am cumming! Am cumming!'
Marty looked around the prison cell and listened to a man with Psycho as a forename cum again. How had a Hollywood writer been reduced to this? Oh yeah. That thing.