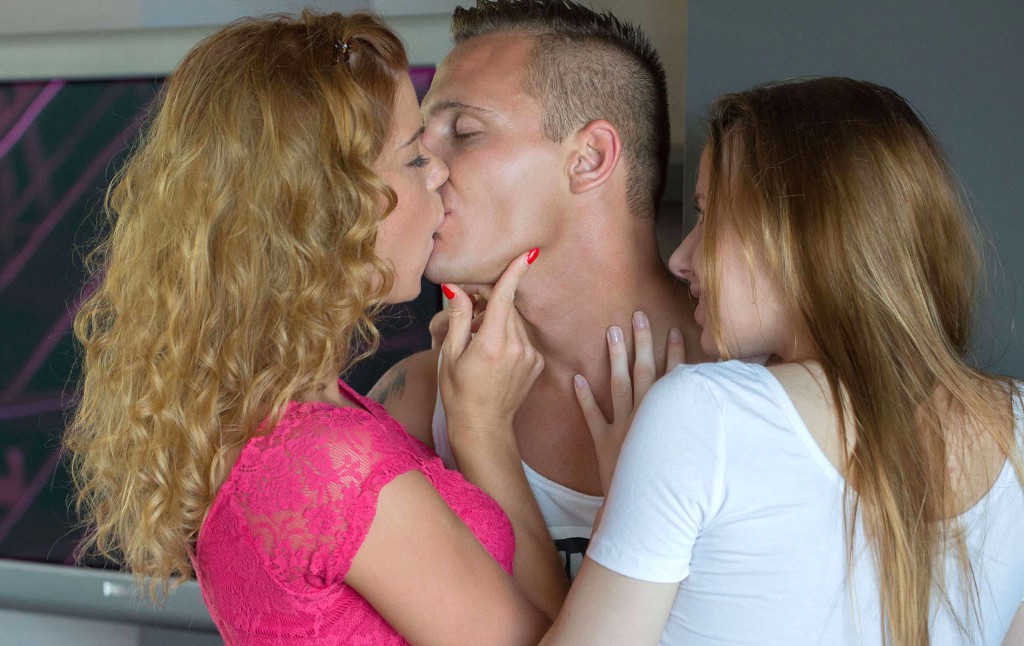 Amy and I were always great friends. In the last few months, though, it felt like we were drifting apart. There were fewer text messages, fewer phone calls, and fewer girls' weekends. At first, I thought this was because she was studying hard for her LSATs, but then I heard she had a new boyfriend.
I missed my friend. I decided to confront her about it, so I went to her sorority house.
"What's the deal, Amy? Did I do something to piss you off?" I asked her.
She got nervous and bit her lip as if some forbidden thought crossed her mind.
"Listen, Tiff, I've been seeing a guy, and it's a secret. He's cheating on his girlfriend."
"No judgment here, Amy! Tell me about it! We're best friends."
Amy's eyes moved around as if she was processing how much she wanted to tell me.
"He's also kind of famous around here."
"Oh my God, Amy! Who is he?"
She opened up her phone and showed me a selfie with Brad, the football quarterback for our school. He already had multi-million dollar offers from the NFL. Not only was he ridiculously successful, but he was fucking hot. He was built, with a body that was pure muscle and looked like he could toss a girl like Amy around and fuck her well.
He had a mischievous smile like he just got caught with his hands in the cookie jar. It was a hot, cocky smile. He had a crew cut and always had the perfect amount of stubble. His butt looked tight and bubbly in those football pants. The pants were also so tight that you could see the outline of his big cock. Fuck, Amy was lucky.
"Look, I can't blame you for fucking him even if he has a girlfriend. He is hot as hell. I'd fuck him if I had the chance."
Amy laughed mischievously.
"Maybe we can fuck him together. He's coming over this afternoon."
Amy paused and looked me in the eye, as if she were assessing my willingness for a threesome.
I felt my heart race, and nervous energy flooded my body. Amy leaned in for a kiss. We had kissed when we were drunk a few times, but this was the first time that she went for it while sober. It started as a little peck and then grew more passionate. Our tongues began to wrestle, and Amy started to feel up my breasts.
I pushed her away and smiled. She had pushed my buttons correctly.
"Let's do it," I told her. "You're only in college once, right?"
We dressed up in matching see-through bras and thong underwear. "He has the key to my place," Amy explained. "We'll be ready for him in the bedroom when he shows up."
She led me to the bedroom and crawled on top of me. She started kissing me and pushed aside the thong with her fingers. She rubbed my clit gently and looked me in the eye.
"I think you're ready for him. Are you excited? It's not going to be like any other guy you've fucked."
I bit my lip and nodded. I had never been in a threesome before, but the prospect of it had me horny as fuck.
I heard the door open. Brad entered the room, and Amy smiled.
"Hi Brad, I have a surprise for you. Meet my friend, Tiff. It's your lucky fucking day."
Brad didn't say a word, he just smiled. He was wearing a tight polo shirt that hugged every muscle on his torso. He took it off, unveiling his taut, muscled body. He pulled down his jeans and revealed his hard cock, already erect at the prospect of sharing us both. He started stroking his cock while he watched us kiss each other.
I moaned as Amy kissed me. I looked at Brad's big dick and muttered, "I feel so dirty."
Amy laughed. "You're about to feel a whole lot dirtier."
Amy held my hand and brought me over to Brad. "Get on your knees," she said.
I looked at that cock. It was the biggest dick I ever saw.
"It's so big," I said nervously.
"You can handle it," Amy said as she touched the back of my head and pushed me on his cock. My mouth opened wide and I took in the big head of his swollen dick. I started bobbing up and down. I couldn't fit the whole thing into my mouth, and I felt his cock grow harder as I sucked him. I made eye contact with him.
Amy looked up at him and asked, "Is she doing a good job sucking your cock?" He nodded. She massaged his balls and encouraged me. "You take that cock like such a good girl, don't you?" I made an "mmmm hmmm" sound with my mouth stuffed with dick and slobber drooled down as I took him deeper. I started fingering myself while I sucked him off.
"Fuck, this is so hot," Amy said. She pulled the cock out of my mouth and started jerking it while it was lubed up with my spit. "Lie down, Brad," she told him.
Brad lay down on the bed, and Amy went in to suck him off while his fat fucking cock stood at attention. He put his arms behind his head and smiled. His biceps flexed as he looked at our nubile bodies. We arched our backs and put our perky butts in the air while we took turns sucking his dick.
Amy licked my neck and whispered in my ear, "I think he wants to fuck you," as she giggled and looked at him. "Brad, do you want to fuck Tiff?" she asked him. He nodded. Amy looked back at me and said, "Climb on his cock."
I straddled him and guided my pussy slowly onto his cock. He stretched out my pussy in a way I wasn't used to. I moaned as I slid onto his swollen shaft and gripped his tight, muscular pecs. I started bobbing up and down on that fat dick as Amy urged me on.
Amy leaned in to kiss Brad, then me. She looked down at Brad and said, "You like my friend's pussy?" He nodded. I started riding him faster. "Fuck, yes!" he grunted. Amy grabbed my ass while I rode his shaft. He began to push on my ass, trying to compel me to fuck him harder.
"I'm cumming," I screamed out as I came all over his fat fucking cock. Brad just smiled; he was able to pleasure me so quickly. He sat up while gripping onto my waist and kissed me as the sweat dripped down my body and onto his.
Amy then bent over and wagged her ass in the air. "My turn," she said.
Brad moved over and gripped her ass. His hands were so big they were nearly the size of her ass cheeks. His cock plunged into her, and with every inch entering her pussy, she clenched the sheets tighter.
I positioned myself in front of Amy's mouth and spread my legs. Her tongue entered me, and she began tongue fucking me while Brad pounded her from behind. Brad quickened his pace, like a hungry lion whose prey was Amy's tight pussy. Brad started to spank her ass.
Amy stopped tongue fucking me and looked back at him.
"Fuck my tight pussy, baby, fuck it hard!"
He started fucking her harder, and Amy smiled, then began uttering unintelligible dirty talk that devolved into animalistic grunting and moaning. She lowered her head back down and started feasting on my juicy cunt all over again.
"Tiff, put your ass in the air next to Amy's," he ordered me as he pulled out of her. I got up and positioned my ass right next to hers. He entered my pussy from behind as a lusty scowl came across his face. He fingered Amy while he fucked me.
Picking up from Amy's earlier dirty talk, I exclaimed, "Fuck us, Brad, fuck us both!"
He smiled as he took his cock out of me and started fucking Amy. She leaned in and kissed me while his big fingers entered my pussy.
He then switched back to me. Amy got under me in a 69 position and started to lick my clit while he fucked my pussy hard.
Amy yelled out, "Are you ready to cum, baby?"
He nodded.
"Cum in her pussy!" Amy screamed out. "You want him to cum in you, don't you, you dirty little slut?" she implored me.
"Yes, I want him to fucking cum in me!"
His pace quickened, and his grip grew tighter around my ass cheeks. His cock grew more engorged, and he held me closer, as deep as he could go. I could feel his cock twitch, and the spurts of cum erupt into my pussy.
When he removed himself from me, my cunt dripped with his cum and Amy licked it out of me. She kissed me, letting me taste his cum from her mouth.
I sincerely hoped this would be the first of many afternoons like this.